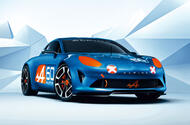 Alpine previews sports car brand's 2016 return with mid-engined Celebration concept – its £50,000 successor to legendary A110 Berlinetta
This is the best indication yet of what Alpine's forthcoming sports car 
will look like when it arrives in showrooms next year.
Unveiled at the Le Mans 24 Hours, and officially called the Alpine Celebration, the car was present at La Sarthe ostensibly to support the entry of an Alpine-backed contender in the LMP2 category of the endurance classic.
However, it also serves to show how Renault, Alpine's owner, plans to return the sports car brand to the 
market in 2016.
The Alpine Celebration bears …read more
Source:: Autocar