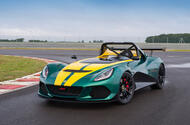 New Lotus 3-Eleven will have more than 500bhp per tonne and cost from £82k when it arrives next year
The Lotus 3-Eleven is the first of the company's promised new generation of sports cars and the 450bhp, sub-900kg car is the fastest and most expensive model it has built.
The car, revealed at this year's Goodwood Festival of Speed, is the brainchild of its new CEO, Jean-Marc Gales. The car will come in two versions — Road and Race — costing between £82,000 and £115,200, depending on specification.
Gales called the 3-Eleven "an uncompromised manifestation of the Lotus idiom" that …read more
Source:: Autocar