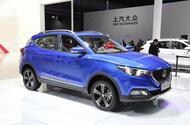 Upcoming UK-spec Dacia Duster rival gets same moniker as Chinese version
MG has dismissed claims that it has renamed its upcoming XS SUV the ZS due to a patent infringement with Jaguar Land Rover.
Matthew Cheyne, head of sales and marketing for MG, told Autocar that MG "did consider calling the new model MG XS», but that it "decided to follow the global brand strategy and keep with MG ZS".
However, a source revealed to Autocar that the XS moniker was ditched because JLR owns a patent for it. Although the name is not yet in use, this practice is common with car makers in order to reserve the rights to names that align closely with their other models.
Autocar has contacted JLR for comment on the matter. It is yet to receive an official response.
MG is set to launch its Dacia Duster rival in the UK on the 31 October. The model will be a tweaked version of the Chinese MG ZS, with a retuned chassis to suit the UK's road characteristics.
Cheyne has previously told Autocar that the ZS will add new engines to MG's range, with hybrid and electric versions both in the pipeline. These could also be used in the next-generation MG 3 supermini, although that model's UK debut is a long way off.
The brand is pushing hard to boost its global presence and revealed a concept halo car called the E-Motion EV at the Shanghai motor show. Insiders said the electric model could make production in 2020, priced from less than £30,000, although no technical details have been released for its powertrain.
Source:: Autocar