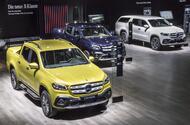 Mercedes' first pickup starts at an almost identical price to the Volkswagen Amarok after VAT
Mercedes-Benz has revealed pricing for its X-Class pickup truck: it is almost the exact same price as its closest rival, the Volkswagen Amarok.
Starting at £27,310 without VAT – or £32,772 including it – the X-Class is priced at around £200 more than the Amarok, rising to £34,100 (£40,920 including VAT) for the next-up X250D auto.
The range-topping, diesel V6-engined X350d 4Matic, due for first deliveries in November, is priced at £38,350, or £46,020 after VAT. It's only available in top-spec Power trim, although three specs are offered across the X-Class range: Pure, Progressive and Power, with even the entry-level Pure benefiting from automatic emergency braking, lane keep assist, traffic sign recognition, a reversing camera and hill start assist as standard.
Progressive, priced £1200 above Pure, gets 17in alloys, heated mirrors and load-securing rails. The range-topping Power gets 18in alloys, part-synthetic-leather upholstery, LED tail-lights and keyless entry and start.
Mercedes first revealed its much-anticipated new premium pickup to the public at the Frankfurt motor show.
The X-Class is a five-seat, four-door crew cab pickup with a separate chassis, four engine options, as well as a choice of selectable or permanent four-wheel drive, and six-speed manual or seven-speed automatic transmission. As well as the three trims, the X-Class is offered with three varieties of dashboard finish, six upholstery options including two in leather.
Mercedes claims excellent off and on-road performance. The X-Class's suspension consists of coil-sprung double wishbones at the front and a coil-sprung, five-link live axle at the rear. Long spring travel, good articulation and precise wheel control are features, along with «a high level of driving dynamics and ride comfort on the road». Driving character can be altered via the Dynamic Select option providing comfort, eco, sport, manual and off-road choices.
The company says the X-Class can be used as both a rugged, off-road-capable pickup as well as a vehicle for urban families. Mercedes is aiming to meet the rising demand for pickup trucks with the refinement and convenience of a conventional car. Besides its robust construction and sophisticated suspension, the X-Class's premium cabin, connectivity, extensive safety aids and scope for personalisation are all intended to extend its appeal beyond the traditional pickup buyer looking for a workhorse.
The X-Class's core markets are Argentina, South Africa, Australia, Brazil and New Zealan. The pickup has been extensively tested in those countries, says the car maker. Inspiration comes from the more rugged end of Mercedes' vehicles – the G-Wagen and Unimog are said to have influenced the C-Class's design. Its core buyer types are businesses, landowners, families, adventurers and free spirits, according to designer Gorden Wagener: «It's a vehicle of opposites: hot and cool, tough and elegant, wilderness and civilisation.»
Engines include a 161bhp diesel X220d and a 187bhp X250d, as well as a 163bhp petrol unit in some markets. A 255bhp, 542lb ft V6 diesel will be released in mid-2018. The X220d and X250d 4Matic provide selectable four-wheel drive, while the six-cylinder unit has permanent four-wheel drive. All versions have low-range gearing; a locking rear axle differential is optional.
Volker Morningweg, head of vans, says Mercedes feels «it's the right time to launch a premium pickup. We've put a lot of effort into this.» Target models, although not premium, are Toyota Hilux – «a solid product» – and the Ford Ranger. «We investigated both of these. We're new to this segment, so we have to be considered. Our clear target was excellent refinement – this is more a lifestyle-oriented pickup. It's not a basic workhorse.» It will be built in Spain and in Córdoba, Argentina.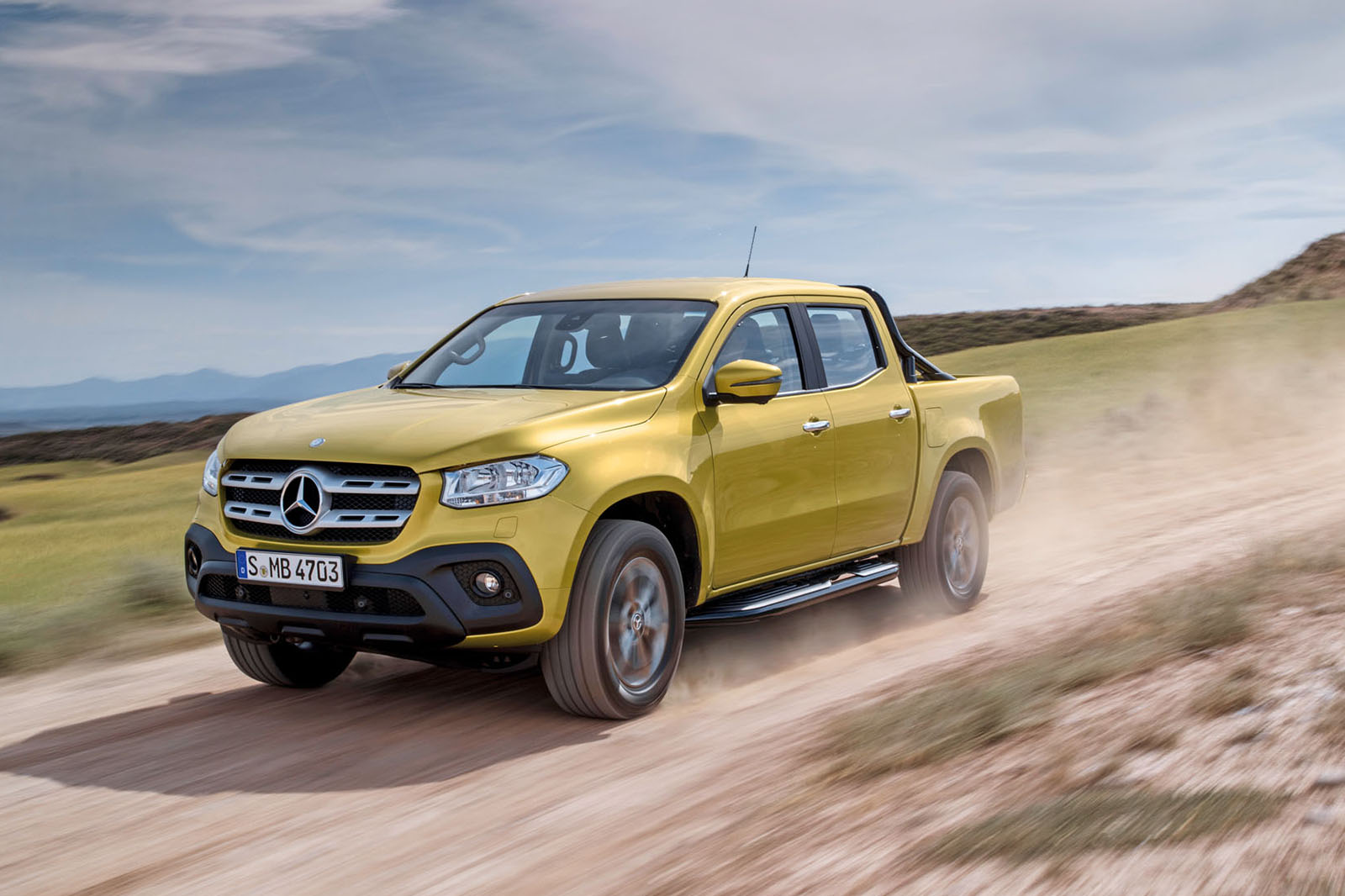 Pickups are mostly about carrying loads, and the X-Class can carry up to 1042kg – similar to that of mainstream competitors such as the Mitsubishi L200, Toyota Hilux and Nissan Navarra. The load bed length is 1587mm, its width 1560mm and height (to the top of the loadbed walls) 474mm. The X-Class will tow a 3.5-tonne load equivalent to a three-berth horsebox or an 8m yacht. It's slightly wider than its competitors and has the longest wheelbase in the class.
Load-securing points are also standard and they become load-securing rails on higher trim levels. Typical pickup options include a styled body-colour rear canopy, a plastic load-bed liner, a bed-divider system, soft and hard tonneau covers, an aluminium roll-top cover, a 156-litre storage box, running boards, a roll-over hoop and a three-piece detachable stainless steel underguard.
There is a connectivity app that enables users to remotely locate the vehicle, check its fuel level and navigate from door to door via a smartphone. Another unusual feature is a higher standard of interior finish than typically found in pickups. Mercedes' Comand infotainment and 360deg cameras are also options.
We've taken a ride in the X-Class – here's what we thought
In 12 minutes, we enthusiastically attacked a race track, performed standing starts on super-steep hills, effortlessly descended them, traversed a set of moguls that got wheels dangling, clambered over boulders and through a water splash, before riding a bank of earth that tilted this Mercedes 42deg from the horizontal. At that angle, an occupant sitting on the low side of the car is almost close enough to the ground to drop a window and pick flowers. At the 50deg tilt that is this pickup's tip limit, it would certainly be possible. So that's impressive.
So is the X-Class's aura of robustness and the basic pliancy of its suspension over rough stuff, making it supple enough to cushion sharp jolts effectively. Suspension articulation seems promising, too, with the succession of earth hillocks that compress the front-left, rear-right, front-right and rear-left springs alternately being taller obstacles than most drivers would tackle. The steep hill from a standing start is no trouble in this X250d automatic, with the task further eased by a hill-holder.
The return to level earth is hill descent controlled, with the drop notable for the lack of clack from the anti-lock braking system actuators. …read more
Source:: Autocar