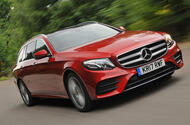 The Mercedes-Benz E-Class could be all the estate car you'll ever want — or it could be overkill. Let's see which…
Why we're running it: To find out how well this high-tech exec blends luxury and sporting traits in a practical body
Life with a Mercedes-Benz E-Class Estate: Month 2
Stretching the E-Class Estate's legs – 25 October 2017
If you wake up in Basingstoke and have to be on the Isle of Mull in time to grab supper from the (Prince Charles-approved) fish 'n' chip van on Tobermory harbour, you need a car like this.
A vast diesel tank means you stop more regularly to refuel occupants than the car and its blend of space, comfort, security, performance and useful tech make it perfect for a 556-mile trek.
We're travelling by Merc too… pic.twitter.com/LdUAIMceWC

— Matt Burt (@Matt_Burt_) October 12, 2017
Mileage: 8399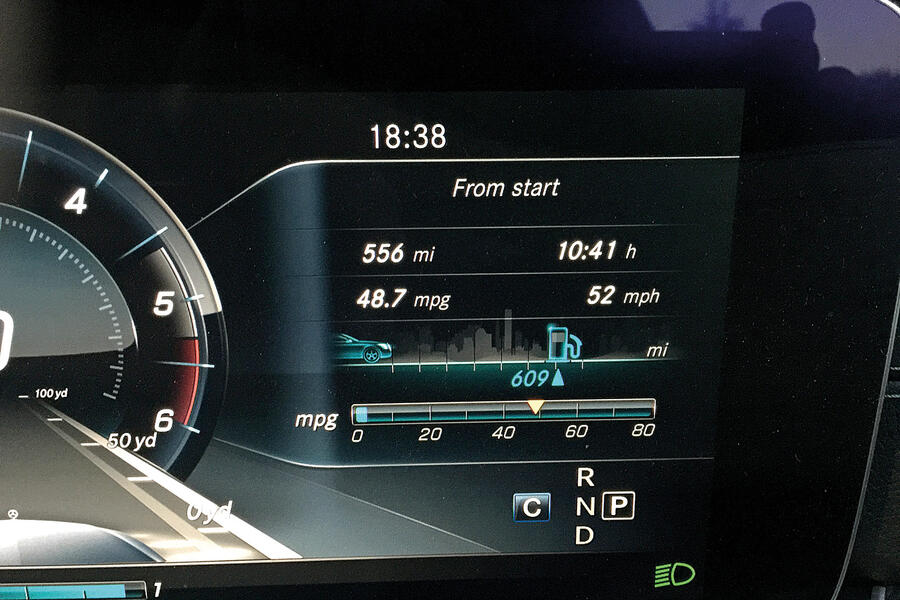 Getting to grips with the E-Class Estate – 18 October 2017
One of the vehicles pictured above is a people-carrier and load-lugger extraordinaire, a go-anywhere, practical German machine designed to deal with anything that life can throw at it. The other is a Volkswagen Type 2. Titter.
Joking aside, if you asked me to choose one of those vehicles in which to spend a road trip with a mate, I'd choose the red (sorry, that's 'hyacinth red metallic' to me and you) one. In fact, I'm about to embark on just such an adventure to the Hebrides. More on that in a future report.
I took the photo below in a car park in the New Forest, on a day when our E220d had been pressed into parent-chauffeuring duties.
That day had a bit of everything: but whether it was holding a fast cruise on the M3 or pootling past the ponies and donkeys through Beaulieu village, it performed with aplomb.
The blurb at the head of this article explains that we set out to appraise this E220d's 'sporting traits', but I'm not sure if that isn't something of a misnomer. That isn't to say it reacts poorly to being hustled – quite the opposite – but if this car does have sporting traits, they are characterised by quiet, ruthless efficiency and unflappability.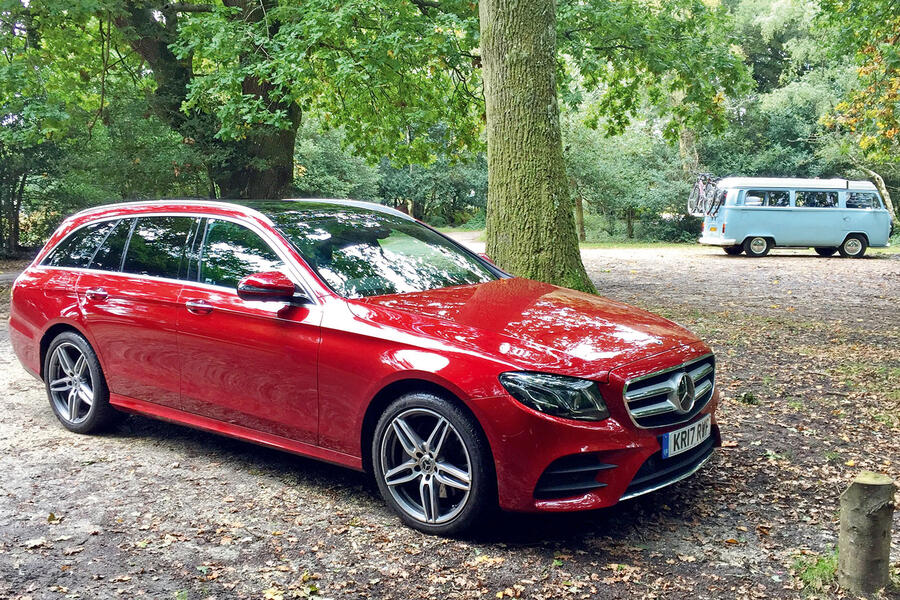 Think Stephen Hendry or Don Bradman in their pomp, rather than the kind of bombast the word 'sporting' implies.
Spending a couple of weeks in the E220d has caused me to ponder this philosophy of 'sportiness' that car makers in general – perhaps spurred on by buyers – seem to have an obsession with.
For the most part, I'm entirely content bowling around with Comfort engaged on the big Merc's Dynamic Select driving mode controller. Even without engaging Sport driving mode, the E220d isn't left wanting, with the 4Matic four-wheel drive system providing prodigious grip levels even on greasy roads and the air suspension maintaining impeccable composure on twisty, narrow lanes.
Our car is specified in performance-biased AMG Line trim (a £2495 premium over the SE model below it) so inside and out is fitted with shiny bits from Affalterbach's store cupboards. But even with all that, it still feels like a consummate, laid-back cruiser, and it's all the better for it in my opinion.
Our E220d is hard to fault so far. I've found myself wondering if road noise might be a smidgen less in a two-wheel-drive variant, or whether it is down to the 19in tyres fitted in place of the 17in or 18in available on SE-trim models.
As excellent as the cabin is, some of the switchgear could be better arranged. I'd like the control for the air blower and the Dynamic Select button to be closer to the driver, rather than on the passenger's side of the centre console.
Anything else? Well, the engine and transmission impinge slightly on where I like to position my left leg in the footwell. You'll think these niggles petty but, so far, identifying significant demerits is proving to be a challenge.
Mileage: 7481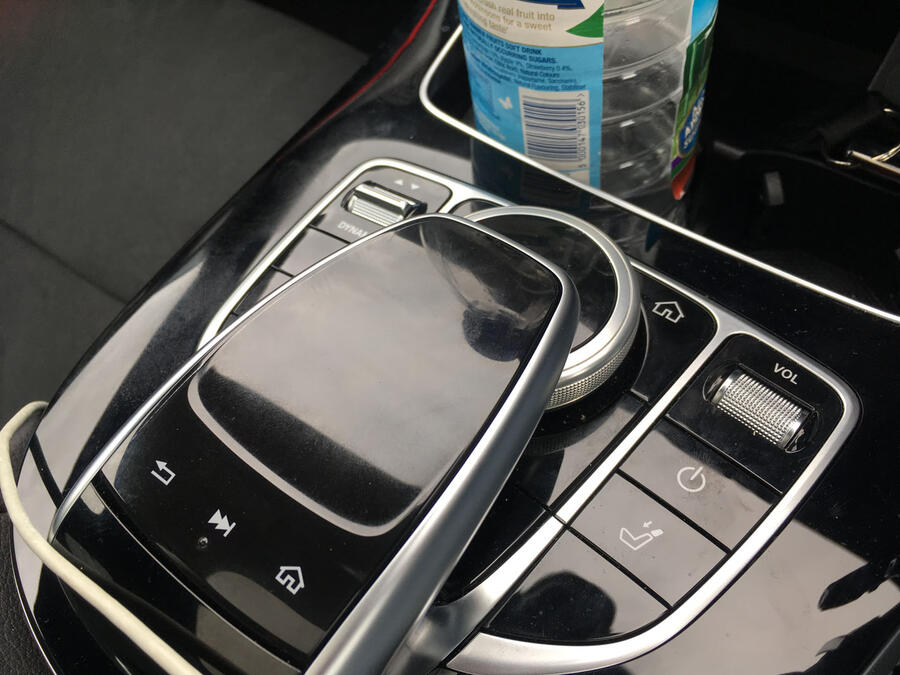 Life with a Mercedes-Benz E-Class Estate: Month 1
Welcoming the E220d Estate to our fleet – 23 August 2017​
The four-wheel-drive system binds mildly on full lock. The car's sat-nav system disappears and only uses your phone's navigation if you're using Apple CarPlay.
And that, friends, is the sum total of things I so far don't like about the Mercedes-Benz E220d 4Matic AMG Line Estate.
This is unusual. Oh, sure, there are things I've excused in other long-term test cars.
Things that you think "well, that's a bit annoying, but I can see why they've done it, and it doesn't bother me that much", and you let it go.
But in the E-Class? Well, it's just polished to the extent that there are very few blemishes.
Unusual, then, but it probably shouldn't be a surprise. The latest E-Class is pretty new to the executive car class and joined it at a time when said class has never been more competitive.
Even the Audi A6 Avant, grey of beard though it is, is still likeable for its dim but solid interior. The latest-generation Volvo V90 is more likeable still – predominantly for its un-dim and still solid interior – plus there's a new BMW 5 Series, too.
The quantities that these cars sell in – much larger than cars in the luxury class above them – mean their makers tend to throw the whole lot at them. I doubt there's a class of car in the world where more is at stake.
For this E-Class, then, Mercedes reverted to tradition. The E has been at times – at most times – solid, dependable, comfortable. Kinda like you'd want your house to be: just there, where it was, when you left it, not tiring to sit in, so that it's as easy to get out of it as it was to get into it several hours previously.
The new E does that. …read more
Source:: Autocar