Second-generation A45 will be a significantly more aggressive mega-hatch with a harder track mode and more power than the Audi RS3
Mercedes-AMG will turn up the wick of its already red-hot A45 4Matic mega-hatch with a second-generation model that has been dubbed 'the Predator' by company insiders.
Due on roads in 2019, the new all-wheel-drive five-door will have at least 400bhp and its own unique chassis developments, which could allow it to run in an ultra-low track mode – like the development car pictured in our gallery appears to be doing.
As shown in the image below, the model, which is the first next-gen A45 to be seen in public, is sitting with little more than an inch between its sump and the ground. The current car is renowned for its stiff adjustable set-up, so this development car could show that AMG wants even more body composure for track-day driving in its future model.
Today's four-year-old 376bhp first-generation A45 is capable of 0-62mph in 4.2sec, but AMG is planning to ramp up straight-line performance further still. That's a reflection of the threat from mega-hatch competition, which comes from the recently upgraded Audi RS3, plus the M2 CS being considered by BMW.
The A45's M133 turbocharged 2.0-litre petrol engine has been comprehensively reworked to give the second evolution of the four-cylinder unit the highest specific output of any AMG production car engine. It will have more than 200bhp per litre, trumping the 189bhp per litre of its predecessor.
The engine changes will enable the new A45 to outpunch the RS3 (which has 394bhp) and M2 (which outputs 365bhp) in terms of outright power. The updates will also establish the new AMG model as the most powerful series-production hatchback that Mercedes has created so far.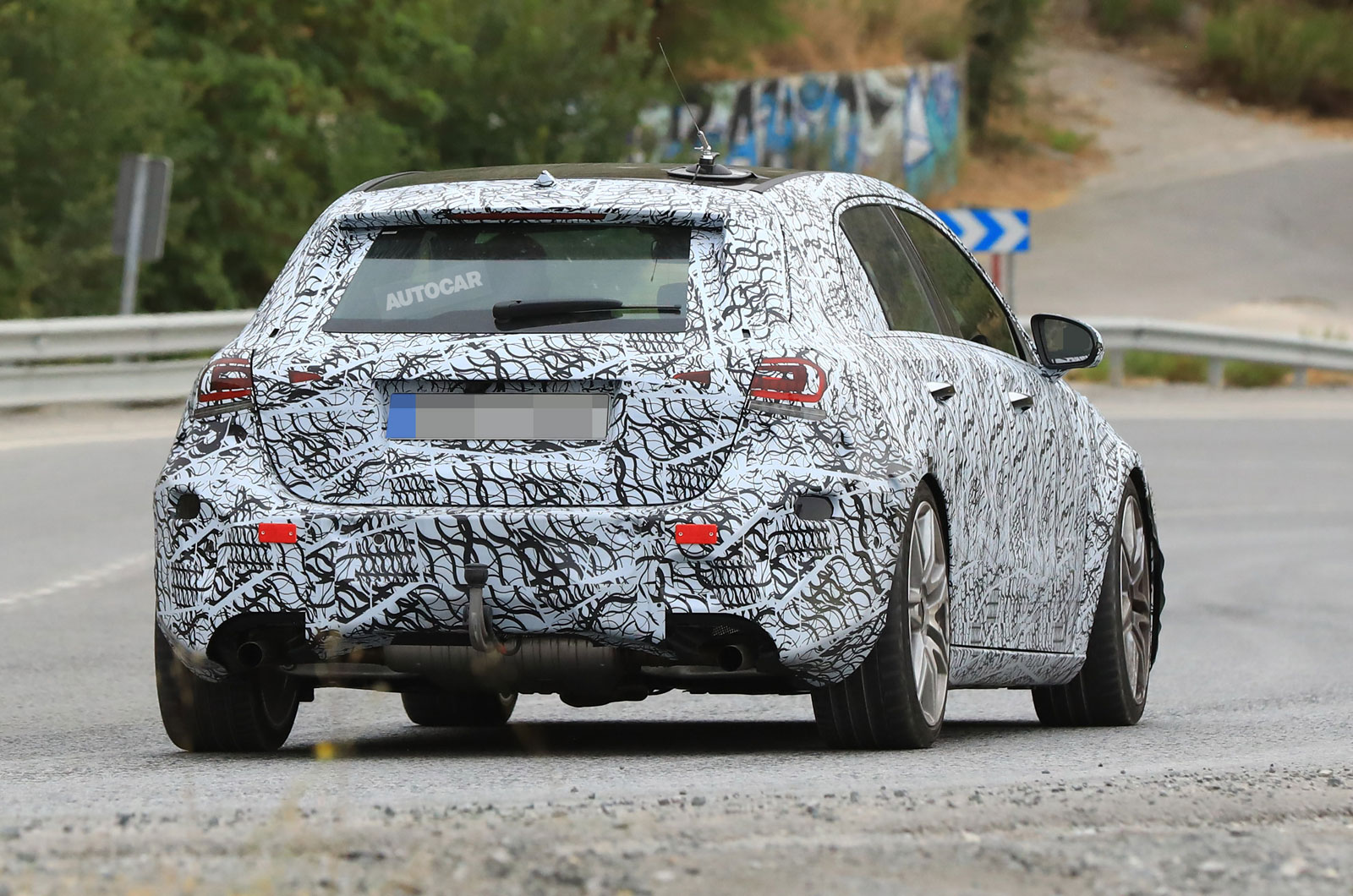 The basis for the changes to the M133 unit comes from Mercedes' new M260 four-cylinder engine. This is derived from the older M270 motor used by today's A-Class, but has a new crankcase and cylinder head.
Initially, the reworked M133 will feature a traditional exhaust gas-driven twinscroll turbocharger. However, AMG is also developing a more advanced variant of its new engine that uses a 48V electrical system and runs both an electric-driven turbocharger and electric motor in a hybrid set-up that promises an even greater ramp-up in performance.
AMG is also looking to endow its new hatchback model with an extra 20lb ft — a move that, insiders have told Autocar, will provide it with at least 369lb ft and allow it to crack the 4.0sec mark for the 0-62mph sprint.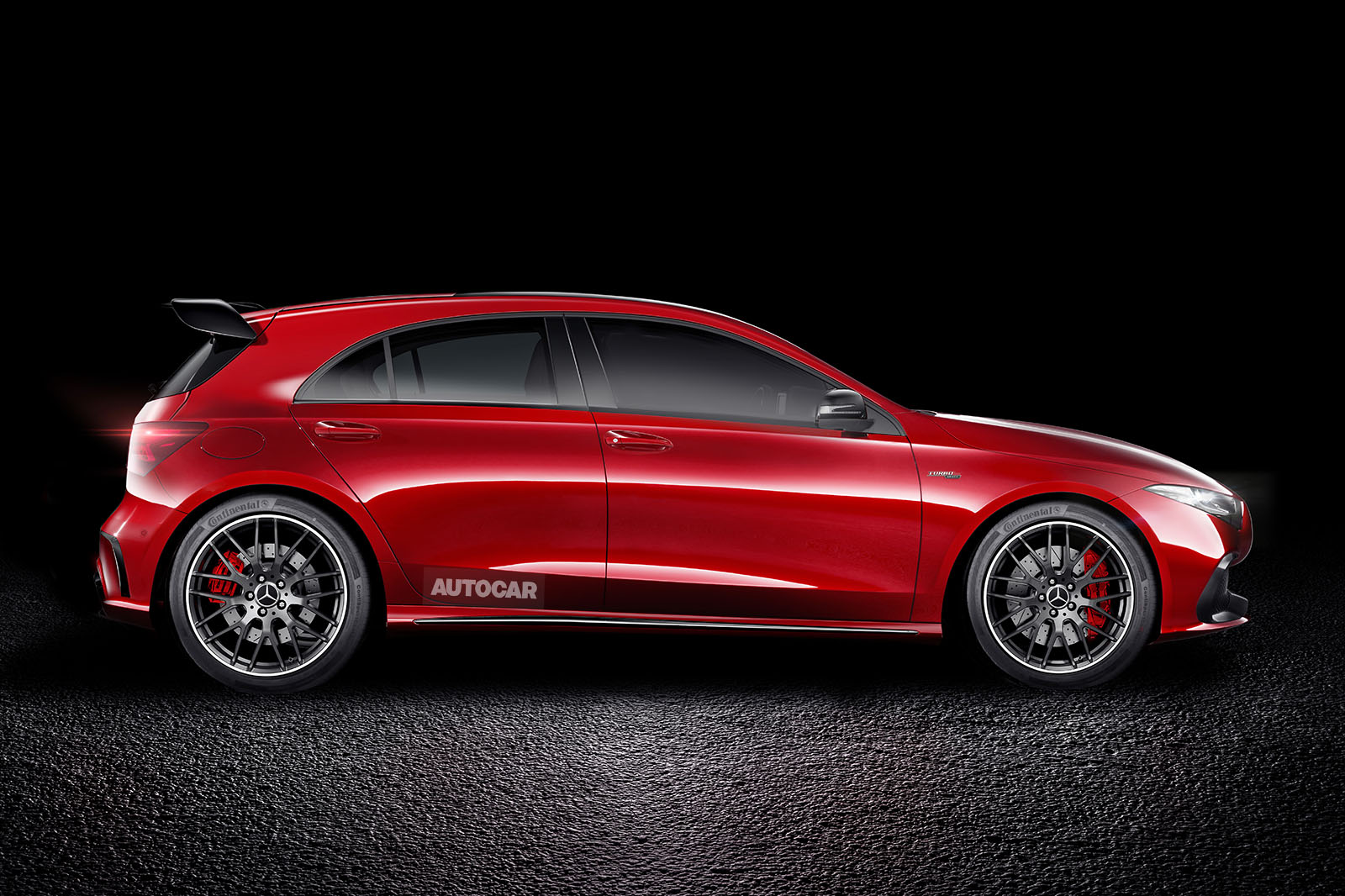 The changes to the A45's driveline extend to its gearbox and multi-plate clutch four-wheel-drive system. Both have been extensively redesigned to handle the higher torque loadings of the new model.
In line with developments further down the new A-Class line-up, AMG's new flagship hatchback model is set to adopt a new nine-speed DCT (dual-clutch transmission), together with a faster-reacting four-wheel-drive system that offers greater variability in the drive split between the front and rear wheels, plus a torque vectoring function for added on-the-limit handling delicacy.
The new A45 won't be the only AMG model in the line-up for the new A-Class, which is codenamed W177. AMG has confirmed plans for a second model line to be positioned beneath today's A45 successor in a move that will challenge the likes of the Volkswagen Golf R and Ford Focus RS.
The second performance hatchback model is set to adopt one of AMG's traditional model designations — insiders talk of the prospect of either the A32 4Matic or A36 4Matic name being used — and it is expected to receive a fettled version of the M260 engine, developing over 300bhp.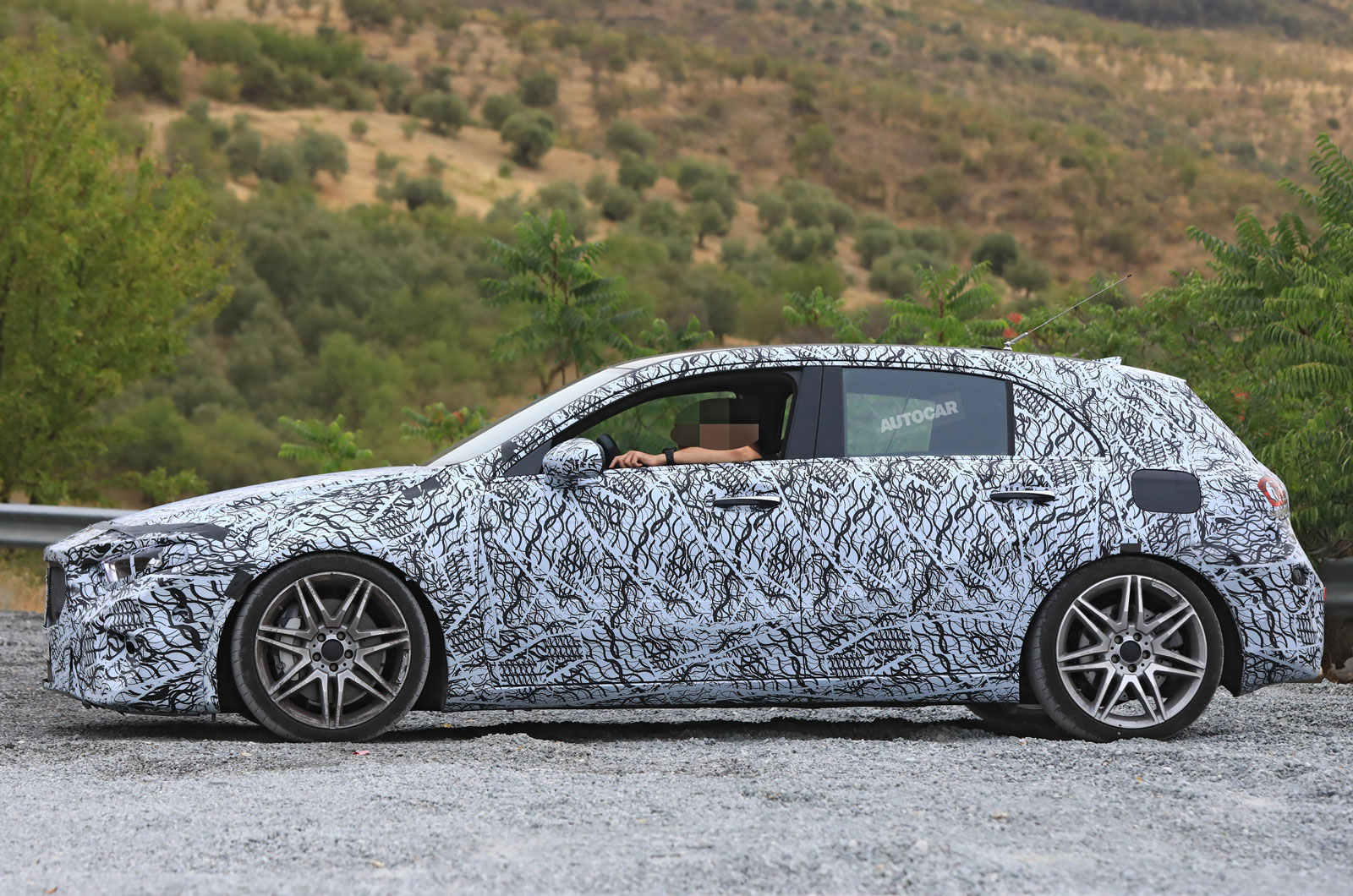 "We've identified a market for a milder AMG model positioned below the A45 4Matic," AMG boss Tobias Moers told Autocar. "The strategy is going to be similar to that seen further up the line-up, where our various '43′ models support the '63′ models."
The new A45 builds on the developments of the fourth-generation A-Class, which is due in 2018. The model is the first of up to eight new compact cars, which include replacements for today's B-Class, CLA and CLA Shooting Brake, as well as the GLA. There will also be an A-Class Saloon (and its own 400bhp A45 variant), a GLB and a possible new seven-seat version of the GLB.
The new A-Class will be 10mm longer than today's car and adopt a new floorpan and body structure that are claimed to provide significant increases in rigidity. This, in turn, is claimed to provide the new rival to the Audi A3 and BMW 1 Series with vastly improved refinement.
Additional reporting by Sam Sheehan
Matt Saunders comment – Will power corrupt the AMG A45?
I'd change very little about the current Mercedes-AMG A45. The reports of even greater power and performance are to be expected: AMG needs the car to remain well clear of its cheaper hot hatchback opposition. I just hope the extra poke doesn't come at the cost of the current car's cleverly honed ride and handling compromise, which is very nicely judged indeed for UK B-roads. A bit more Ford Focus RS-style balance and throttle-on handling adjustability out of that four-wheel-drive system isn't a bad idea, mind.
Source:: Autocar