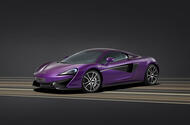 Pebble Beach to play host to two new MSO McLaren 570S models, as well as a limited-edition 650S and the 675LT
The Pebble Beach Concours d'Elegance will play host to two new McLaren Special Operations 570S models later this week. McLaren will also be showing off a new limited-edition version of the 650S, as well as the new 675LT.
MSO, the bespoke division of the supercar manufacturer, will be displaying a Mauvine Blue 570S coupe, complete with a carbon black interior, alongside a Ventura Orange coupe that is being used to showcase a selection of options from the MSO range.
The 650S on …read more
Source:: Autocar