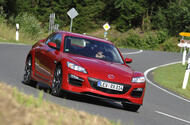 The last Mazda to feature a rotary engine was the RX-8, which went out of production in 2008
The Japanese firm believes quiet rotary tech makes it ideally suited for use in electrified powertrain
Mazda will bring back its famed rotary engine as a range extender because it is "much, much quieter" than the alternatives, according to the car maker's engine boss Mitsuo Hitomi.
The Japanese firm's range hasn't featured a rotary-engined road car since the RX-8 went out of production in 2012 but is known to have been interested in reintroducing the technology. Mazda's RX-Vision Concept, which was shown at the Tokyo motor show in 2015, used such a powertrain.
Tokyo motor show 2017 – live coverage
However, Hitomi has now confirmed that, rather than being used in its purest form, a rotary engine will appear in a range extender version of its first electric vehicle due in 2019.
When asked at the Tokyo motor show if Mazda was developing a standalone rotary engine, Hitomi said: "Even if there isn't a plan to have it in an actual product, of course we are developing a rotary engine alone." He strongly hinted that a rotary engine-powered model is likely to exist alongside the range extender in the future.
Picture special: the glorious history of rotary-engined Mazdas
Asked why Mazda will use a rotary engine as a range extender, Hitomi said "the rotary engine isn't particularly efficient to use as a range extender but when we turn on a rotary, it is much, much quieter compared to other manufacturers' range-extenders", which is seemingly suited to the near silence of electric cars.
Mazda Vision Coupe previews Aston Martin-rivalling grand tourer
Mazda's recent engine focus has been on the development of compression ignition Skyactiv-X petrol engines, which the firm believes can be as clean as an electric powertrain over a car's whole lifespan. It has also been working on electrified versions of that powertrain.
Mazda's first rotary-engined car was the Cosmo grand tourer, which was shown at the Tokyo motor show in 1963 and went into production in 1967. The company developed a Wankel rotary engine with the help of a German firm called NSU. Rotary engines, which use rotors instead of pistons, are generally smaller and lighter than traditional petrol engines, without any loss of power.
Since the RX-8 ended production, the firm's only machines to feature a rotary engine have been the race cars in the American Pro Mazda junior single-seater series.
Read more
Tokyo motor show 2017 – live coverage
Picture special: the glorious history of rotary-engined Mazdas
Mazda Kai concept previews new 3 hatch for 2019
Mazda Vision Coupe previews Aston Martin-rivalling grand tourer
Insight: why Mazda has pursued 'dream' petrol engine technology
Mazda 3 Skyactiv-X compression ignition petrol engine driven
Source:: Autocar