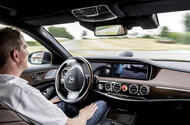 The UK is being pitched as the best place to develop autonomous vehicles, but the Government is already trying to impose new rules and regulations
I didn't know this: in England, the average driver spends 235 hours – six working weeks – behind the wheel every year.
The Department for Transport (DfT) told me this in a document called 'The Pathway to Driverless Cars', which says that driverless cars are coming and thatyou really ought to like it.
They will make access to cars easier (nearly half of under-30s can't drive), reduce congestion and accidents and improve air quality.
For good measure, …read more
Source:: Autocar