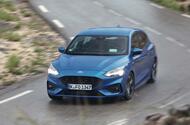 Spec savers: make sure you spec your new Focus wisely
The new Ford Focus comes with so many technical options that it can be great, good and quite average
Another week, another car to recommend or not recommend or get in trouble for recommending when somebody buys a variant that, when it arrives, it turns out they don't like very much. Sigh.
Yes, it's the new Ford Focus, a car that sets new standards for the class – in the right specification. Chiefly, with the independent rear suspension but in five-door form and with a manual gearbox and a petrol engine.
Other versions are fine, too. I've driven a 1.0 with a manual gearbox and a torsion beam rear suspension and in some ways it is a near-top-of-the-class car to drive, too. It's even more agile, possibly it steers even more keenly – although that might just be the lightness of the engine – so what it gives away over the control-blade-suspension car, it gives away in comfort.
Other versions to that are also fine, but just, well, less so. They're the kind of cars that get us letters. Stick a diesel in it, or an automatic transmission, or both, or give it an estate bodystyle in Vignale trim with a full-length glass roof and you still have a good car, but one that's marginally less sparkly and rewarding than a regular Focus.
I haven't tried one on really big wheels but that's a chance somebody might take, too, idly ticking boxes on their company car specification sheet – adding wheel diameter and reducing sidewall here, adding weight equivalent to a pig on the roof (although they let in less light, to be fair), and so on. And then wondering why it's not the dynamic marvel that they might have read it is.
Goodwood Festival of Speed 2018: classic car stars of the show
This isn't an exclusively Ford issue, of course. But it is a modern car issue. The Focus has three different base rear suspension types: torsion beam, control blade (which it calls short long arm, slightly misleadingly),and control blade but with flattened dampers on the wagon, so as not to encroach on boot space.
And these can variously be fitted with standard dampers or adaptive dampers. So what's it like? Great, or good, or anything in between.
And this is just a Focus. Move up to a German executive car and you can throw on other variables like a greater degree of weight variance, air springs and active anti-roll bars. If it's a bit sporty, you can get choices of differentials that do, or don't do, fancy torque vectoring things. These are the choices that, unlike a Focus, won't just make the difference between a great and a good car, but a great and a really, really average – perhaps even dislikable – one.
Hey ho. It's a pickle but, dynamically, you can't go too far wrong if you choose the lightest available option. In the Focus's case, that would get you a 1.0 with a torsion beam rear end. You'd lose some comfort and it'd be a 'worse' car, but one that feels honest and changes direction pretty well. I'd take that.
Not another one…
And another week, another potential SUV. The Audi Q9 could occupy a space at the top of Audi's SUV range and take the fight to Range Rover and, well, honestly, is it just me who'd rather have a brilliant-looking, great-driving, really expensive four-door station wagon?
Read more
Source:: Autocar