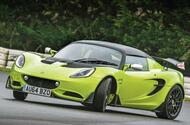 How will Lotus's cars of today evolve under Geely's stewardship?
With Lotus having appointed a new CEO, Matt Prior discusses what lies ahead for the British brand
Good news out of Lotus, of the kind that I suspect we should get used to in the short term: a new hiring.
It takes less time to put people in place than it does cars into production, even under the stewardship of a company like Lotus's Geely parent, which has recently transformed Volvo.
Geely has just appointed Phil Popham (formerly of Jaguar Land Rover and latterly of Sunseeker) as CEO of Lotus Sports Cars and senior vice president for commercial operations of Group Lotus.
If Geely's plan with Lotus goes anything like it did with Volvo, which it took over in 2010, things will go a bit quiet barring announcements like this one. And then – boom – the model introduction will start. Volvo's XC90 only went into production late in 2014 but, when a new V40 arrives next year, it'll be the oldest car in a nine-model line-up.
Popham's appointment prompted some discussion among my colleagues: do people, aside from people like us, know what a Lotus actually is these days? It has been so long since it won an F1 world title or James Bond drove an Esprit that you wonder whether in the wider world people know what Lotus, which has been turning out brilliant-handling lightweight sports cars but for not enough money and in not enough quantities, actually stands for?
Earlier this year, Geely's take on where the firm was going was this: "Geely is fully committed to restoring Lotus into being a leading global luxury brand," though it makes you wonder when, if ever, it really was one.
I reckon anyone with the mildest of interest in cars has got a sound enough idea of what Lotus is: if you've heard of the company, you'll know it makes sports cars. That's enough, isn't it?
So it's in metal, rather than wondering what the brand stands for, where my interest lies: the brand's image will mould to reflect whatever type of car it makes. If it makes good cars, people will buy them, and the brand takes care of itself.
I'm more intrigued about what these cars will be powered by. Lotus needs a sports car architecture, likely of its own to underpin its future sports cars and, presumably, another Volvo-based one for SUVs.
But Volvo engines will only get it so far, given it doesn't make any engines with more than four cylinders or 2.0 litres. And as we all know, Lotus makes sports cars. And some sports cars want more oomph than that.
Surely there'll come a point where Lotus is big enough that Toyota will be disinclined – especially given it likes making its own sports cars again – to keep supplying it engines, even if Lotus wanted to keep buying them; which, presumably, it would prefer not to.
Which could mean pure electric or hybrid electric power, although that doesn't always equate to lightness and fine ride quality, core themes of Lotus until now. Or has anybody tried the JLV-6G35 3.5-litre engine from the Geely Borui? Is there one, right now, on a rig in Norfolk, in preparation for being dropped into the middle of a new two-seat sports car?
I suppose we'll find out. And in the meantime, you'll have to put up with people like me banging on about it for another three years.
Read more
Lotus owner Geely plans SUV and cars to rival Ferrari
Lotus SUV to use Volvo underpinnings and have class-leading handling
Geely plans £1.5 billion investment in Lotus
Source:: Autocar