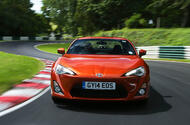 Subaru BRZ and its Toyota GT86 twin are born to be mild
With emissions regulations getting increasingly strict, manufacturers may struggle to produce such cars
The affordable performance car might die. Sound melodramatic?
Oh, well, it might be, to be fair: but you know, headlines, opening lines, they're meant to be dramatic. Big up the worst case. Glass half-empty. You know how it is.
There will always be sports cars, I guess; although car industry regulators are not exempting them from becoming cleaner. And that is the problem for the affordable performance car, because a fast low-emissions car isn't easy to make.
As it stands, if you produce a lot of cars, their average exhaust CO2 output will have be a lot lower (95g/km on what'll then be the 'old' NEDC drive cycle fuel economy and CO2 calculations), across the board, by 2020, than it has been previously.
And then it will need to be lower again after that, by an amount yet to be decided on the 'new' WLTP regulatory standard; inconveniently, because regulators are deciding things some way behind the development curve of pretty much every single car maker. Anyway, regardless of how short or long these targets are, they're proving hard to meet while keeping cars cheap.
Now, for manufacturers that make fewer cars, there are different reductions and averages that will keep the conventional, pricey sports car safe. There's one for makers of between 10,000 and 300,000 cars a year, another for those who make 1000 to 10,000 cars, and an exemption for those who build fewer than 1000. That'll give these car makers a little more room to manoeuvre, and companies can 'pool together' too.
But imagine you're a big car maker and you want to make a fast, relatively affordable car: a hot hatchback, small sports saloon, little coupé or convertible variant – that sort of thing. The route traditionally available to you – sticking a big engine in it – suddenly becomes extremely difficult, because it's hard enough to get your regular range of vehicles down to the 95g/km average without sending a group of enthusiastic engineers off to install a fire-breathing motor into something, thus pulling the average up again.
So now, that kind of car would not only have to cover its own development cost but would also have to sell in sufficient volume – or at a sufficiently high price – to cover the additional cost of engineering the rest of the range to have a lower CO2 output, to balance out the fast one.
Which sounds unlikely. So it could have to have a lower CO2 output itself, but that means it'd probably have to be partially electrified. And that probably means it's no longer a cheap performance car. Or it could, of course, get slower, which might not be a terrible thing, either. But then: how much of a performance car is that?
You see the problem? Perhaps this is already happening. Perhaps that's why the Subaru BRZ and Toyota GT86 have only a mild engine. Perhaps it's why the Alpine A110 weighs nothing and costs £50,000. Perhaps it's why the Honda NSX has three electric motors.
So perhaps it's already giving us some fantastically interesting but not, I suspect, huge-selling sports cars.
And I worry about that. Because these cars will get signed off based on how many people will buy them, so the thinking won't be: let's build a fast one. It'll be: should we build a fast one? And that's not always a question with a positive outcome.
Read more
Source:: Autocar