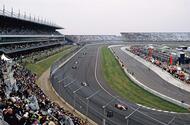 Rockingham has enjoyed moments of success, but not many
This week, Matt Prior discusses the closure of Rockingham and wonders what the odds of a new circuit opening in the UK are
Most outsiders must have thought Rockingham Motor Speedway an optimistic proposition when it opened in 2001.
I know I was one of them. Oval racing isn't the UK's bag and there had been so many problems raising the money in the first place that the project's originator, Peter Davies, took a digger and started work himself in 1998 so the planning approval didn't expire.
But I also figured it didn't matter: once it was up, it was up. Owners sometimes go broke and race circuits change hands. Awful for those involved, but for the race goer or track-day driver, not much changes.
Facilities might even get a bit better when someone new comes along. What these places don't do is shut up shop completely, right?
Sadly, in Rockingham's case, wrong. Its new owners have it earmarked as a car de-fleeting, preparation and auction house, and confirmed to the Northants Telegraph that circuit activity "will cease" at the start of next year. That, plus development potential at the Corby site, suggests that any future return to motorsport seems improbable at best.
Rockingham has been through various owners and financial strifes, so the decision reflects the realisation of people's first fears: that it was somewhere about which locals would complain (including some, frustratingly, who'd moved to houses built after the track), that it was costly to run and that it supported a race format spectators weren't interested in. The wrong place for the wrong track, in other words.
But still a shame. I've got a soft spot for Rockingham. I watched one of the two Indy-style CART races it held, we've hired it for a few Handling Days and Sideways Challenges, and I've been on track days there. Its facilities are strong and the infield circuit – which doesn't use a single yard of the trademark, flagship oval outer track – is a really good layout, more interesting than the part- banked, part-infield format that races tend to use because pit garage access is via the oval. Besides, it's hard to dislike a circuit where track facilities are reached via an access road signed the 'exhaust appreciation tunnel'.
It's a pity we'll no longer be able to appreciate it.
Given the cost and noise, it's hard to imagine a new race track facility being opened now (Circuit of Wales, anyone?), although there is recent precedent. Blyton Park added a good asphalt track to the grasstrack arena that was already there, the Grand Tour on Amazon TV occasionally uses a layout at the former RAF Wroughton and Dyson has unveiled its plans for a proving ground at Hullavington. Bedford Autodrome is likely to become houses (more news coming on that this week) but remarkably it was built and made a success of by Jonathan Palmer's MSV in the first instance. MSV has since turned its attention to a former airfield in northern France.
Which perhaps tells you something: if you want to make a success of a circuit, build it on an old airfield.
Read more
The rise and fall of Rockingham Motor Speedway
BTCC 2018: Turkington builds title lead after Sutton exclusion
BTCC 2018: Morgan, Sutton and Smiley share Rockingham wins
Source:: Autocar