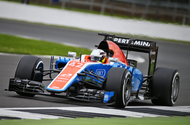 The Manor Racing MRT F1 team was placed into administration on 6 January; it has now collapsed after failing to find a buyer
Manor will not partake in the 2017 Formula One season after no buyer could be found to save the team.
Manor's parent company, Just Racing Services, was placed into administration by FRP Advisory on 6 January, with 20 January initally set as a deadline to find a buyer. It ceased trading on Friday, according to reports by the BBC.
Staff at the team's factory in Banbury, Oxfordshire will be made redundant after January salaries have been paid.
Numerous parties were rumoured to be involved, including Indonesian businessman Ricardo Galael, business partner of Bernie Ecclestone's Tavo Hellmund, a consortium of Asian buyers and ex-McLaren chairman Ron Dennis.
There had been hope for the team after the FIA gave it permission to start the upcoming season with its 2016 car modified to meet the new regulations, although a 2017 car had been designed.
The team's fate was sealed at the penultimate Grand Prix of the 2016 season, when the Sauber team scored two points, relegating Manor to 11th in the Constructors' Championship, and effectively losing them £30 million in prize money that was vital for the team's survival.
Manor was previously saved from administration at the end of 2014 by its current owner, Stephen Fitzpatrick, at the last minute.
The team first entered Formula 1 in 2010 as Virgin Racing, before becoming Marussia in 2012, and finally MRT Manor in 2016. During its seven years and 132 Grands Prix in the sport, it was some way behind the rest of the field, scoring points on just two occasions – the 2014 Monaco Grand Prix and the 2016 Austrian Grand Prix – and suffered two tragedies in the deaths of race driver Jules Bianchi in 2014 and test driver María de Villota in 2013.
Two of the team's three 2016 drivers have found seats elsewhere for the 2017 season – Pascal Wehrlein at Sauber, and Esteban Ocon at Force India – while Rio Haryanto will not be racing.
A buyer could still be found for the team, but it would be nearly impossible for them to make the first race of the season in Australia on 26 March. Technically, teams are permitted to miss three races of each season, meaning the Russian Grand Prix on 30 April is realistically Manor's last chance.
Source:: Autocar