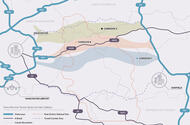 Five locations have been announced as potential routes for a Trans-Pennine road tunnel to be built after 2020
The route for the Manchester to Sheffield tunnel has been narrowed down to five locations before work gets underway after 2020.
The tunnel, which will link Manchester and Sheffield upon completion, will be the largest road project the UK has known in half a century. It will stretch from the M60 east of Manchester to the M1 just north of Sheffield.
Journeys between the two cities will be around half an hour shorter than the existing route once the tunnel has been completed.
All of the …read more
Source:: Autocar