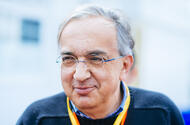 As the dust settles on last week's shocking news, we reflect on how Marchionne did things
When Sergio Marchionne first arrived at Fiat in 2004, he did a very interesting thing. He was an outsider to not only Fiat but also to the giant and deeply complicated motor industry, and he didn't pretend to know all the answers to Fiat's myriad problems.
So he did that rare thing for a CEO: asked people what they thought. In his first weeks at Fiat's monolithic headquarters in Turin, he paid unannounced visits to even quite junior managers throughout the building. Dressed in his trademark pullover, he would take a seat and ask the presumably startled employee what they were working on. From this, he gauged all the interesting projects the company had in the works.
He also, of course, got to assess the people. It quickly became clear who still had fire in their belly and who had been beaten down by years of decline and mismanagement and were now going through the motions.
Learning through talking
For someone with an enormous intellectual hinterland, prone to quoting Wittgenstein while discussing production numbers, the irony of Marchionne's management philosophy is that he didn't really have one.
If it had a name, it would probably be best known as 'management by walking around'. In the UK, this approach was first popularised by Sir John Harvey-Jones, boss of ICI in the 1980s. When touring the giant chemicals plants the firm operated, Harvey-Jones would surprise onlookers by greeting workers by name and even asking after their wives, whose names he also usually knew. While he did have a very good memory, there was also a backup in place: an assistant kept a notebook with all the details.
And this little artifice was probably known by many, but it didn't matter: it showed that he cared. As Sir Winston Churchill once observed, 'little things make a big difference'. Front-liners returned the favour by telling Harvey-Jones things his own management had kept from him, which often led to improvements and resulted in him being hailed as a business hero. He would later become a TV guru about business.
Duty
Marchionne would also become famous, if not quite a household name. His approach was very big-picture, and perhaps best summed up by one of the last public statements he ever made. In June, he presented a Jeep to the Italian Carabinieri (pictured above), an organisation very close to his heart, because his father was an officer. He said the force had «the same values as the basis of my own education: seriousness, honesty, sense of duty, discipline and spirit of service».
That big picture he applied to his brands, too; he knew he could get the profit margins he was after from Jeep, Ram, Ferrari, Alfa Romeo and monstrously powerful CNH combine harvesters, and largely got them, while the rest largely withered on the vine. Follow the money.
He liked getting things done. He knew he couldn't do it on his own, and his approach of getting to know people well and quickly enabled him to identify those who could help him and those who could not. And those in the latter camp were understandably aggrieved when they found themselves without a job at little notice. But he was in a hurry; Fiat didn't have long to live if things continued as they were when he first arrived. He had to do it all over again with Chrysler five years later and again succeeded remarkably.
While ruthless, he was also very human. Meeting one journalist, he openly confessed to having had a terrible night; on his flight over, his laptop had blown up and he had lost a ton of work. Few CEOs would admit publically to having such problems, but he didn't care. Perhaps like Harvey-Jones's notebook, there was artifice to his mateyness, his openness, his unguarded comments that were less unguarded than they looked. Did it matter? Probably not.
He found public holidays tiresome, and when they occurred he would fly to another country where there wasn't one so he could find people to work with. Duty was perhaps the key word in his statement to the Carabinieri; he saw no reason why he wouldn't work morning, noon and night, and at weekends, to achieve his goals.
He worked hard and played hard, and made a difference. The saddest factor is that this approach to life almost certainly brought his to a premature end.
Source:: Autocar