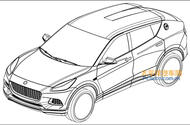 Patent images show what the first Lotus SUV could look like; on-road bias is apparent
Images of the 2020 Lotus SUV have been discovered online, showing what the now Geely-owned brand has in mind for the first high-riding model in its history.
The model bears the design hallmarks of the Evora and Elise, albeit on a raised, chunky body, with dramatic design lines across the sides of the car's body. The images first surfaced on Chinese car site PCAuto.
From first appearances, the narrow gaps between the wheels and body suggest little suspension travel or articulation – further confirming that it'll be focused on-road performance, like the Porsche Macan, rather than a more rugged appeal like the Ariel Nomad.
Following reports that the brand will take some production to China, it's likely that the brand's first SUV will be built there, given the market's importance and the SUV's likely popularity there.
Lotus CEO Jean-Marc Gales confirmed that the SUV would handle "like nothing else" and will maintain the brand's lightweight, aerodynamic focus. Gales referred to the car as a crossover rather than an SUV, though, further suggesting an on-road focus.
Although Lotus is realistic about its relatively small 1500-unit annual volume, compared with Porsche's 240,000 sales per year, the SUV will undoubtedly help to close the cap.
Read more:
Lotus Elise Cup 260: limited-run, race car-derived Porsche 718 Cayman GTS rival revealed
Lotus CEO: sports car production stays in Norfolk; SUV could go elsewhere
Chinese car maker Geely buys majority stake in Lotus
Dany Bahar-led Ares coachbuilder reveals G-Class and Bentley Mulsanne-based model
Source:: Autocar