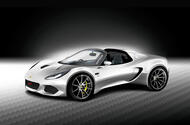 Geely's acquisition of the Lotus brand could mean production moves to China, chairman Li Shufu suggests
Production of Lotus cars may move to China following the brand's acquisition by Chinese car company Geely.
Geely chairman Li Shufu said that the priority of the deal is to make Lotus and parent company Proton, which was also acquired by Geely, profitable, reports Bloomberg.
While Lotus posted a profit for the first time in 20 years this year, its foothold on the UK market is tentative, with sales having fluctuated in recent years.
Although the move is not confirmed, it's likely, given the movement of Volvo S90 production to China late last year, as well as the cheaper cost of production there.
Despite the likely production move, it's expected that Lotus's headquarters will remain in the UK, just as Volvo's remained in Gothenburg, Sweden, following its takeover by Geely.
Shufu also said that electrification, further lightweight and artificial intelligence were priorities for the Lotus and Proton brands, as it looks to use Proton's knowhow to conquer the South East Asian market.
It's possible that as Lotus looks to build its car line-up with its first ever SUV, a notably more profitable model for other brands, Shufu could be looking to boost these profits with reduced production costs of a Chinese plant. Lotus's lower-volume market than Volvo's could also be a catalyst in the decision.
A Lotus spokesman could not comment on the matter.
Read more:
Geely buys Lotus, stake in Proton
2020 Lotus Elise confirmed following return to profit
Source:: Autocar