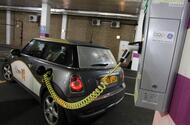 Transport for London has granted Bluepoint London responsibility to maintain and expand the capital's charger network
Four hundred new electric vehicle charging points will be added to London's streets by the end of 2016 following a deal between charger specialist Bluepoint London, Transport for London (TfL) and 16 city boroughs.
The deal will give the company responsibility for expanding the capital's charging point network as well as maintaining and operating charge points in the agreed areas.
To help EV drivers find and reserve free charging points, Bluepoint London has developed an interactive map that runs via a smartphone app.
Chargers can be booked up …read more
Source:: Autocar