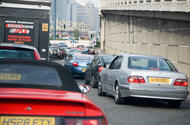 Prominent think tank calls for increase in diesel congestion charge and banning of diesel vehicles from central London at peak hours
Diesel cars should be banned from central London, according to the Institute for Public Policy Research (IPPR). The latest call for diesels to be banished from the capital urges London Mayor Sadiq Khan to escalate his plan to improve London's air quality.
The IPPR says London is falling behind other cities around the world at improving its air, as well as being behind the Mayor's target of a 60% reduction in emissions by 2025.
The think tank is also encouraging Khan …read more
Source:: Autocar