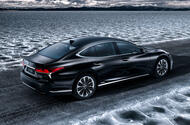 First picture of the new Lexus LS 500h
Electrically-assisted version of Lexus's new luxury saloon will share its powertrain with the LC 500h and get more than 350bhp
The Lexus LS 500h, a hybrid version of the brand's latest flagship saloon, will be revealed at next month's Geneva motor show.
The electrified Mercedes-Benz S-Class rival will make use of Lexus's Multi Stage Hybrid System, which mates a 295bhp 3.5-litre V6 petrol engine and four-speed automatic gearbox to an electric motor that drives a CVT transmission.
The two-part system, which was introduced in the LC 500h, is said to have gearchange times that are comparable to a dual-clutch gearbox, but the Lexus system is lighter and more compact. The LC 500h gets a total of 354bhp, and that same figure is expected of the LS model.
A first picture released before the car's physical debut shows that no styling changes will be made to signify the hybrid's different powertrain. The flagship will therefore – like the regular LS – measure 5235mm long, 1450mm high and 1900mm wide,.
Compared with the outgoing LS, the new model is about 15mm lower, and its bonnet and boot are 30 and 41mm lower respectively, with Lexus's designers striving for a 'four-door coupé' bodystyle.
Sales of the new LS range will start at the end of this year, with pricing set to be released nearer to that time. The outgoing LS costs from £71,995, but a small price increase is expected for this replacement.
Alongside the LC 500h will be the 2017 RC F GT3 racing car (shown in gallery), which will make its European debut at Geneva. The model will compete in Japan's Super GT series and the US's IMSA Weathertech Sportscar Championship from the start of the 2017 season.
Source:: Autocar