Up to 90% of buyers expected to opt for £177 per week finance deal; range-extender black cab is capable of zero-emissions driving
The LEVC TX, a taxi capable of zero-emissions driving, is now being tested on the capital's roads where a final validation of its setup will be made.
The model is already available for order, priced from £55,599. First deliveries are due before the end of the year.
LEVC, the Geely-owned firm formerly known as the London Taxi Company, is offering its latest model with a finance plan that charges drivers £177 per week over a five-year period. LEVC said the outgoing TX4 model cost £167 per week over a four-year period. LEVC says it has focused on weekly lease costs rather than an outright purchase price because that is how 94% of taxi drivers fund their vehicles. The TX will be sold with its battery so that no additional lease charges are incurred.
LEVC claimed that its new model will cost drivers about £50 per week in fuel, based on an average of about 115 miles per working day. The weekly estimate is £100 less than the outgoing 2.7-litre diesel-powered TX4 can achieve.
The new electrified taxi arrives ahead of new-for-2018 legislation from Transport for London (TfL) that dictates all new cabs must be capable of zero-emissions driving for at least 30 miles. The LEVC TX is powered by an advanced battery electric powertrain with a 1.3-litre petrol generator, a system that its maker calls 'eCity'.
This range-extender technology gives the TX a range of more than 400 miles and it can run for more than 70 miles on electric power only. It can charge its depleted battery to almost full in 20 minutes via a rapid charger, in two hours with a fast charger and in about eight to ten hours on a trickle charger.
LEVC will service the taxis for free during the first three years or 90,000 miles of their lives. It will also provide a full manufacturer warranty and free roadside assistance for the first three years or 120,000 miles.
LEVC commercial director Richard Gordon said: "I am delighted to announce such a competitive package for the new electric TX. Market leading in every way, this is a truly outstanding new vehicle that will revolutionise the taxi trade in London from an emissions perspective, for passenger comfort, experience and enjoyment, and importantly for the drivers."
Exclusive: first ride in new London Black Cab up Goodwood hill
A disguised TX prototype ran at this year's Goodwood Festival of Speed. In a subsequent interview with Autocar, Geely's design team explained how they incorporated the iconic London black cab look, most notably from the FX4 and TX4, into the new vehicle.
«The biggest 'gulp moment' of my career was being asked to redesign the Volvo sportswagon – it was like taking care of the Swedish crown jewels – but this job is right up there,» said Geely's executive vice-president of design, Peter Horbury. «You know criticism will come on projects like that – and this is another one in the same vein.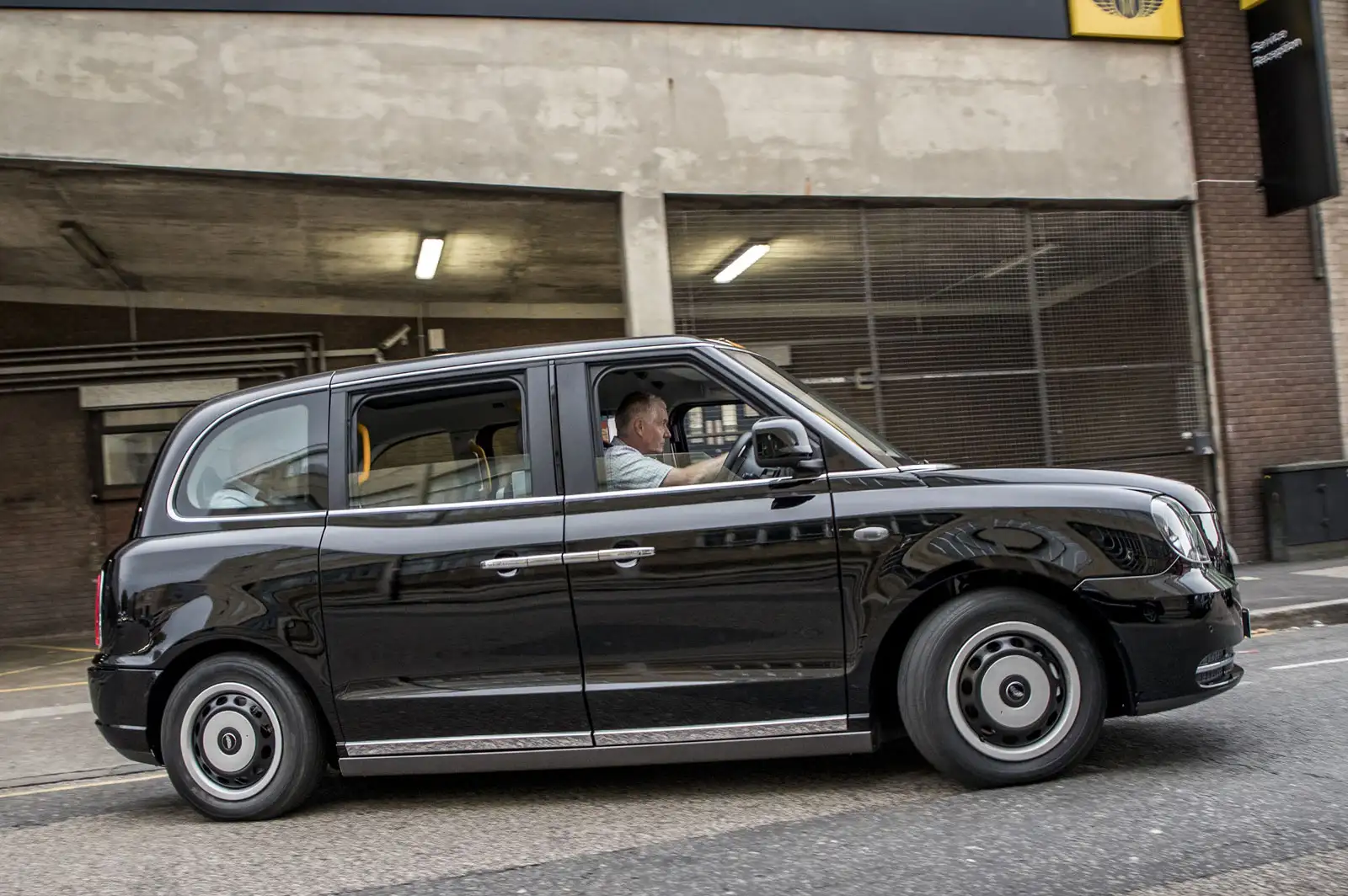 «The starting point was to meet the requirements of such a vehicle – the turning circle, the powertrain, the driver's space and then carrying capacity. In truth, what we were then left with was a square box. To get the shape, we then required to meet our aesthetic goals was always going to be a challenge, but we pulled and pushed the engineers and gradually we were able to create a car that is a modern interpretation of what has gone before. My take on retro design is that you shouldn't repeat what has gone before but you can offer up nods that remind people of it. That's what we've done.
«You also have to remember that this is a vehicle that will typically have a 15 to 20-year life. It doesn't get replaced after seven years like a conventional car, so we had to avoid creating something that would age quickly. If you look at some of the extreme car designs today, ones that grab and shock you, they don't tend to age well. We wanted a look that will stand the test of time and, if that has meant toning it down at times, then that's what we've done. This car must look relevant 20 years down the line.»
The TX is made using aluminium bonding, which LEVC says reduces the weight of the car to the point that it offsets the weight of the battery while maintaining vehicle strength. No overall vehicle weight has been given, however.
Inside, LEVC says that the TX has a more premium feel than its predecessor, with less vibration and noise in the passenger area, plus charging points for mobile phones and wi-fi. There is seating for six passengers. A retractable integrated ramp also makes access for passengers in wheelchairs quicker and easier in a new forward-facing position.
LEVC CEO Chris Gubbey said: "From our heritage as the manufacturer of the iconic London taxi, we have unparalleled insight into the needs of commercial operators. Drawing on the best of British design and engineering, as well as technical expertise from our sister company Volvo, our products will help transform city living and provide taxi drivers with an average weekly fuel saving of £100 compared with our outgoing diesel model."
The rebranding of the firm from the London Taxi Company to the London Electric Vehicle Company (LEVC) was motivated by the firm's desire to expand its sales beyond the UK and its portfolio beyond taxis. To that end, an order for more than 250 TXs has been taken for the Netherlands and an electric light commercial vehicle is already in development.
By the end of 2020, TfL wants to have 9000 taxis on the city's streets that are capable of zero emissions. LEVC is hoping that this will encourage local councils to invest in improved charging infrastructure.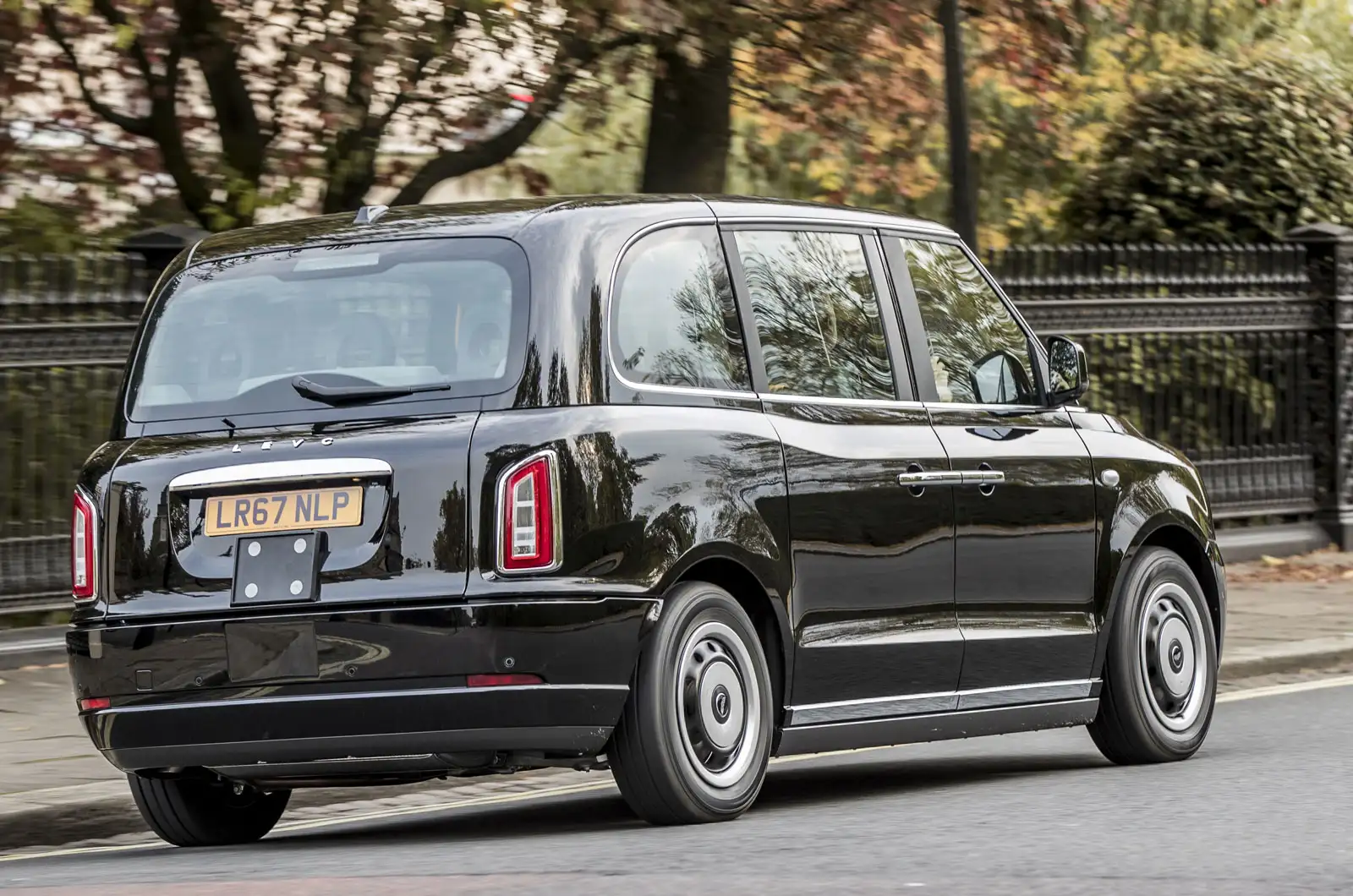 New LEVC TX taxi – key design points with David Ancona, Design director and general manager at Geely Design Barcelona
«I actually learnt to drive …read more
Source:: Autocar