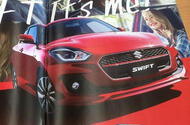 A Japanese brochure has revealed the full styling and some tech specs of the 2017 Suzuki Swift, as well as pricing and fuel economy
The 2017 Suzuki Swift has been leaked again, this time in a brochure showing the car in its full Japanese specification.
A mild hybrid model, badged 'Hybrid RS' appeared in the brochure, confirming Suzuki's sharing of powertrains across its range – the hybrid also features in the Baleno – although a Suzuki UK spokesman couldn't confirm if the variant would make it to the UK. Brochure images appeared on forum pages of a car fan site.
The …read more
Source:: Autocar