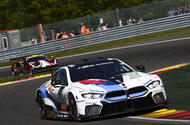 The new BMW M8 GTE will battle Ferrari at Le Mans
While Toyota will be unchallenged out front, six manufacturers will be battling for glory in the top GT division this weekend
Spoiler alert: a Toyota is going to win this year's 24 Hours of Le Mans. Well, almost certainly.
Following the withdrawal of Porsche, the Japanese firm's pair of TS050 Hybrids are the only works cars left in the top LMP1 prototype class. Without demeaning the efforts of the privateer teams also in the division, the race is Toyota's to lose.
I may well be proved wrong; 24-hour races are grueling and never easy. And it was only a year ago when all five works LMP1 cars hit trouble, with the winning Porsche overhauling an LMP2 car with only an hour left to go.
But even if drama is in short supply at the front of the field, things are going to be far less predictable in GTE Pro, the top class for production-based grand tourers.
And there are six good reasons why: Aston Martin. BMW. Corvette. Ferrari. Ford. Porsche.
Those six manufacturers are all running works-backed efforts at Le Mans and all have a realistic shot at victory. That's testimony to the balance of performance regulations in the GTE division that allow rule-makers to ensure something close to parity and keep costs in check.
That also makes the competition fierce, putting the emphasis firmly on the teams and drivers to push hard and avoid mistakes from the moment qualifying begins this evening (Wednesday) through to the finish of the race. Last year, the class was only decided on the final lap, with Jonny Adams leading Aston Martin to victory.
The machinery is stunning, too, including the latest Vantage GTE and the new BMW M8 GTE, both developed alongside their new road car counterparts. Ferrari returns with the latest version of the 488 GTE, while Ford is back for a third year with the GT. Porsche has the venerable 911 RSR (and is also running two awesome retro liveries to mark its 70th anniversary), with a driver line-up that includes a number of its LMP1 drivers from previous years, while Corvette is back for a remarkable 19th consecutive year.
The GTE class is so successful that it's little surprise motorsport bosses are looking to replace the top LMP1 class with a new prototype category based on hypercars. After all, as exciting as it will be to watch six manufacturers battle for class glory, imagine if they were doing so for outright victory this weekend…
Autocar's digital editor, James Attwood, will be providing regular updates and insight from Le Mans 24 Hours throughout the week. Check back here in the coming days for more coverage
Read more
How the new Aston Martin Vantage GTE was created
New rules to allow hypercar-based machines to battle for Le Mans victory
Source:: Autocar