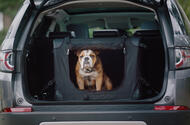 Brand has created range of accessories to make life easier for pet-owning drivers
Land Rover has revealed three accessory packs for owners of its cars who travel with their dogs regularly.
Starting at £360.37 and topping out at £887.56 — a similar price to a detachable tow bar on the Discovery Sport — the Pet Packs aim to solve multiple difficulties of pet transport and minimise mess inside the car and stress for the pet on board.
The entry-level pack includes a pet carrier, spill-resistant water bowl and rubber mat for the load area.
A second-tier pack adds a luggage partition and quilting to the load area liner, while the range-topper includes an access ramp and a portable rinse system to help wash muddy pets and avoid stains on the interior materials.
The ramp can take dogs up to 85kg, while the rinse system has a capacity of up to 6.5 litres, or five minutes of showering on its least powerful setting.
The packs are available across the full Land Rover range, including all Range Rover models. Individual items can be purchased separately.
Read more:
Every Jaguar Land Rover to be renewed by 2024
April Fools' Day 2017: the best jokes from the car industry
Source:: Autocar