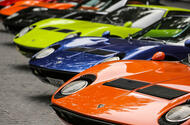 To celebrate half a century of the Miura, we tour some of Italy's finest roads with a collection of 25 classic Lambos
The Lamborghini Miura has long been hailed as one of the prettiest cars ever built. 50 years after its birth, we drive one through picturesque Italy.
Never trust an ancient Italian speedometer. The needle is touching 260km/h – more than 160mph – but there's no way the Lamborghini Miura is running at that sort of pace.
Besides, there's a police car alongside my bright yellow SV model as we hurtle down the dual carriageway between Bologna and Parma.
Fortunately, the …read more
Source:: Autocar