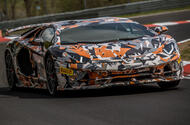 Range-topping Aventador beats Porsche 911 GT2 RS around the Nurburgring in a production car record-setting time of 6 minutes and 44.97 seconds
Onboard video footage has shown the new Lamborghini Aventador Superveloce Jota becoming the fastest production car ever to lap the Nürburgring Nordschleife circuit.
The successful record attempt, set by Lamborghini factory driver Marco Mapelli, shows the upcoming SVJ completing the lap in a time of 6min 44:97sec – making the range-topping Lambo 2.27sec faster around the fearsome track than Porsche's 690bhp 911 GT2 RS. It's also just under 15sec faster than the Aventador SV.
A report leaked ahead of official confirmation of the lap time claimed the SVJ produces 759bhp from its 6.5-litre V12 – 69bhp more than the GT2 RS and 20bhp more than the current Lamborghini flagship, the Aventador SV.
The Italian supercar maker will officially reveal the Aventador SVJ at the Monterey Car Week next month, with an ever-increasing number of teaser videos being posted online. Previous videos have boasted about the car having "the best aerodynamic efficiency" and claims of class-leading power-to-weight ratios have also been made.
At the front, there's a significantly larger front splitter than that fitted to the McLaren Senna, and a new rear wing is held in place by two curved arms and a centre arm.
The car also sports a new dual-pipe exhaust system that blows engine waste gases out through the middle of the back end, rather than in the centre of the diffuser like the SV. This new technique, also used by the Huracán Performante, enhances the diffuser's effectiveness by removing exhaust gases from an aerodynamically sensitive area.
The Aventador S, which arrived in the second half of 2017, produces 730bhp, 40bhp more than the previous version. Applying the same jump to the SV J suggests it could have an output of around 780bhp, which would make it one of the market's most potent supercars. To put that figure into perspective, that's 90bhp more the Porsche 911 GT2 RS.
Backing the prospects of this extreme performance is the use of the letter J, which stands for Jota, the Spanish word for the letter J. Jota has been applied to some of Lamborghini's most hardcore models, including race-homologated versions of the Miura and Diablo. Although the Aventador will not compete in motor racing — Lamborghini's competition efforts are focused on the lighter Huracán — it emphasises the car's abilities.
Jota models have a history of being produced in extremely low numbers. No more than 28 Diablo Jotas exist, and just one each of the Miura Jota and a more recent Aventador J were produced. This suggests Aventador SV J build numbers might be kept below the 600 units of the SV. If that's the case, the SV J's pricing would likely jump substantially from the original SV's £321,743 starting figure.
Lawrence Allan
Read more
Hyundai i30 N long-term review
Source:: Autocar