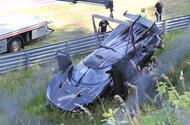 £1.8m hypercar crashed during preparation for a record lap attempt, but it will be rebuilt
The Koenigsegg One:1 that crashed at the Nürburgring will be rebuilt, and is likely go for the lap record at the Nürburgring again.
The manufacturer has examined the car back at its headquarters in Ängelholm and said it suffered from a fault with the front left ABS wheel sensor signal. Koenigsegg indicated that as only seven examples exist, it would use this car for future record attempts because it belongs to someone 'very close to the company'.
A statement from Koenigsegg detailed the issues with …read more
Source:: Autocar