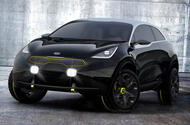 Kia's Nissan Juke rival will go on sale in the UK later this year; it's expected to make its debut at the Frankfurt motor show
Kia is expected to reveal its Nissan Juke rival before the end of this year, with the Frankfurt motor show the most likely venue.
A Kia spokesman confirmed that this small SUV will sit below the Niro in Kia's line-up. The Niro itself sits below the Soul. Despite their similarity in size, all three models will be sold alongside one another, because Soul and Niro sales show no sign of slowing in important markets.
Kia has confirmed the project exists, and that it has the internal codename SE, although this isn't the name the car will take in final production form. 'Stonic' has been trademarked, but the Kia spokesman couldn't say whether this name would be the one used.
We've not spotted the Kia model testing yet, although we have seen the Hyundai SUV of the same size, with which the Kia is likely to share components.
This new Kia model is expected to bridge the gap between Kia's hatchback and SUV offerings, and despite its small size it should be a more fully-fledged SUV, rather than a niche-splitting offering like the Soul.
Engines are likely to be borrowed from lower-end Sportages, such as the 1.6 GDI, and the Rio, such as the 1.4-litre petrol and diesel.
When it's launched, the as-yet-unnamed Kia small SUV will rival the Renault Captur and Nissan Juke, as well as the upcoming Golf-based SUV from VW and the Seat Arona.
Source:: Autocar