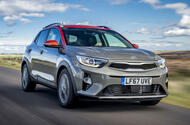 Stonic could prove to be one of Kia's best-sellers; it undercuts the Nissan Juke by around £600
Order books for the new Kia Stonic have opened, with prices starting at £16,295 for the compact SUV Nissan Juke rival.
The striking five-door also goes up against the Renault Captur, Peugeot 2008 and Vauxhall Mokka X, majoring on styling, electronic driver aids and has a wider choice of colours than you'll find on other Kia models, including two-tone options and several bold interior choices. A 7.0in infotainment touchscreen is standard, with options for TomTom sat-nav and a wide variety of apps.
This entry-level price undercuts that of the Nissan Juke by around £600. Range-topping First Edition Stonics, with a 1.6-litre diesel engine, cost from £20,495. The entry-level car, the £16,295 1.4-litre petrol in 2 specification, gets 17in alloys, air conditioning, rear parking sensors, automatic lights and electric, heated door mirrors. Autonomous emergency braking (AEB) is optional on entry-level Stonics but standard higher up the range.
Kia Stonic driven: first impressions of new small SUV
Kia's European marketing director, Artur Mertens, said: «This segment is the fastest growing in Europe. It was one million sales last year and will be two million by 2020. By 2020, 10% of all cars sold will be a B-SUV. Until now, Kia has had no strong presence here, and now we're launching into a market that's taking off. This is really important for us in Europe.»
Opinion: why small SUVs are key for 'upstart' manufacturers
Petrol engines include a 99bhp 1.4 giving 51.4mpg and 125g/km CO2, a 1.6-litre CRDi diesel returning 67.3mpg and 109g/km and a 118bhp, 56.5mpg and 115g/km 1.0 litre turbo triple, these with six-speed manual transmissions. A seven-speed automatic will be offered on the 1.0 turbo later. The diesel option is a 109bhp 1.6, to be replaced by a substantially updated engine during 2018.
The covers are off the new @Kia_Motors #Stonic What do you think? Full story at https://t.co/bnpoDvpCPd pic.twitter.com/XAJerYU6Sr

— Autocar (@autocar) June 20, 2017
Kia's European COO Michael Cole confirmed that the firm has no plans to launch an electric version of the Stonic, or any further SUV models – although he said the latter could change if there was customer demand. That approach contrasts with sister firm Hyundai, which is developing a Kona EV for a 2018 launch, along with two new models for its SUV range.
Cole said: «[The Stonic] will be a very strong volume seller for us, in our top three. We already have very good heritage of making crossovers and SUVs, and this follows the Sportage in launching into a very popular and fast-growing segment.»
The Stonic's platform is essentially as for the Rio, which was renewed with the latest version of the supermini. Intriguingly, Hyundai's new compact crossover, the Kona, uses an older platform. The Stonic rides 43mm higher than the Rio because the seats are mounted higher and it sits on 17in wheels. All the exterior panels are different apart from the front doors. Size-wise the Stonic sits in the middle of the pack, being fractionally longer than the Juke and Captur, but shorter than the 2008 and Fiat 500X. The boot holds 352 litres – good for the class, if not the best.
Hyundai Kona revealed: exclusive pics of Nissan Juke rival
The Stonic's body is 51% high-strength steel – the Hyundai Group has its own steel business – and the base model weighs a relatively fleet 1069kg, although the drag coefficient is an unremarkable 0.33. However, Kia sees the Stonic as more urban sports utility than long-distance cruiser. That's the reason for a driver's hip point that's a little lower than average among small crossovers, the Stonic set up for crisp, roll-limited handling that Kia describes as 'solid'. Opting for a more dynamic set-up is part of a wider ambition to develop Kia as a sportier brand, as underlined by its development of the Stinger sports coupé.
The Stonic's suspension uses the same tech as the Rio's – MacPherson struts up front, a twist beam axle at the rear – but is retuned to suit the Stonic's higher centre of gravity. Two suspension set-ups have been developed, one for South Korea, where the Stonic is made, and another for Europe, where this crossover was largely designed and developed from Kia's Frankfurt design and engineering facility. The steering's on-centre feel is a little heavier for Europe, and the chassis' responsiveness are sharpened.
The Stonic comes with an extensive suite of electronic driver and safety aids, including a head-up display, torque vectoring, corner brake control, forward collision alert, lane departure warning, blind spot monitoring, rear cross-path alert, high beam assist and a driver attention warning system. More noticeable than these systems, most of them hidden, is the Stonic's styling. In two-tone form the lower body colour hoops over the rear section of the roof, Kia describing this as a Targa style. Ironically, given that Targas always have opening roofs, the Stonic does not offer one, nor even a panoramic glass ceiling. Kia says it will think about developing one.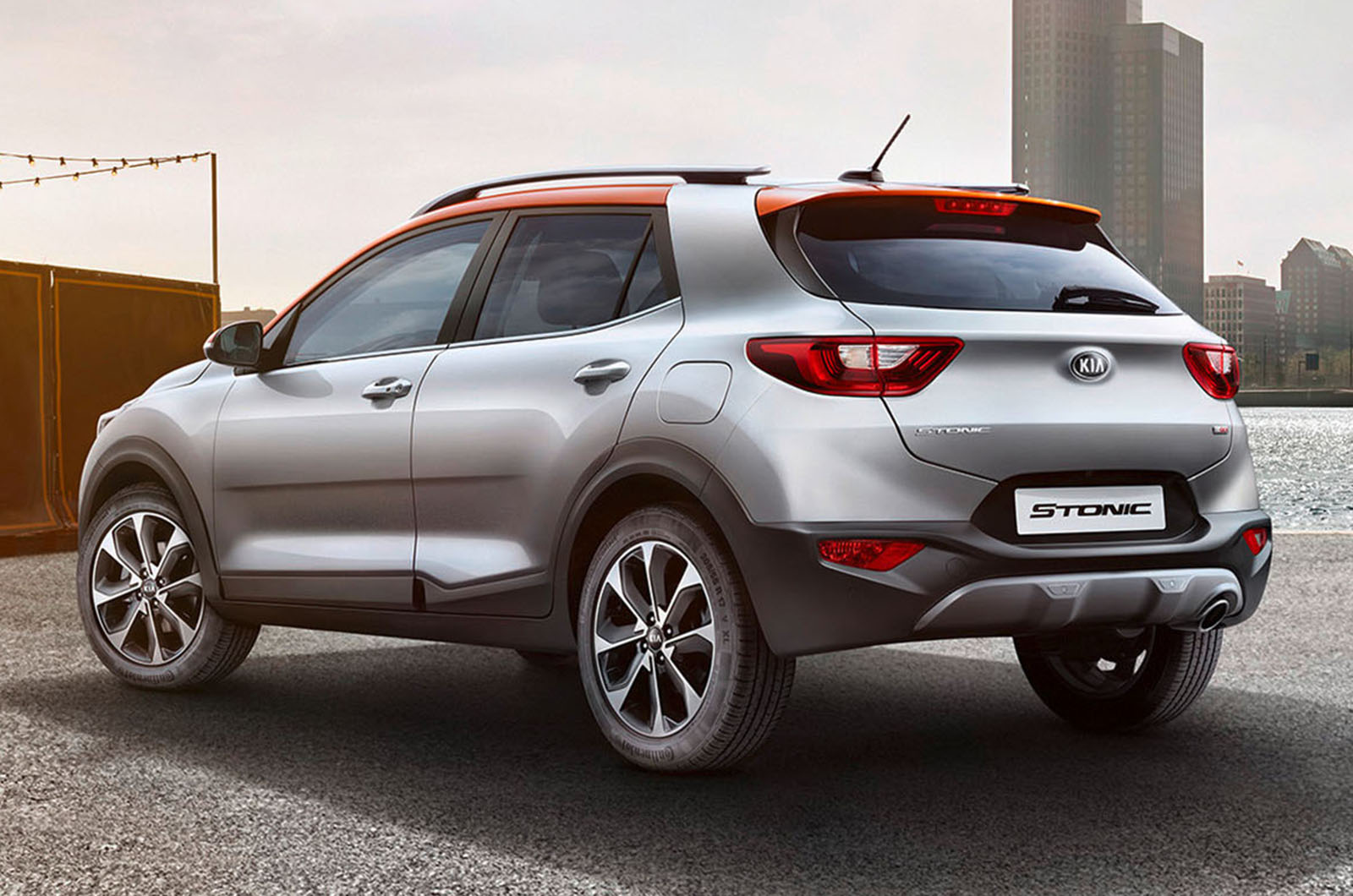 Inside, buyers can have extensive sections of the interior finished in metallic orange, bronze, grey or green. There are nine exterior hues and five roof colours. The emphasis on design is understandable, not only because Kia is developing a good reputation for styling, but also because its research indicates that design is highlighted by 43% of buyers as a reason to buy a B-segment SUV. Only 27% of buyers mention styling as a reason to purchase a conventional B-segment hatchback.
Kia forecasts the B-SUV segment will grow by just over 200%f by 2020, and is now well placed to capitalise on that expansion.
Additional reporting by Mark Tisshaw
Source:: Autocar