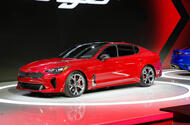 Diesel option is confirmed for Europe, and it could soon be joined by a part or even fully-electric alternative
Kia is already planning to diversify the choice of powerplants in the new Kia Stinger beyond the turbocharged 2.0-litre four-cylinder and 3.3-litre V6 that the car was introduced with in Detroit, with diesel power confirmed for Europe and part or even fully-electric options likely to follow soon after.
Although the range-topping GT and its 360bhp V6 won most headlines – not least for offering more power than an Audi S4 – Kia acknowledges that it will probably be of limited interest in CO2 obsessed European markets.
The company's high performance boss Albert Biermann had previously confirmed to Autocar that the Stinger will also get a diesel option, with insiders indicating that this will be formerly launched at Geneva and will use the 2.2-litre four-cylinder motor that's offered in the Kia Sorento and Hyundai Santa Fe, likely sharing their 197bhp output. Like its petrol sisters the diesel will send drive through a standard eight-speed automatic gearbox, and may be offered with the option of all-wheel drive.
Beyond that electrification is likely to follow, firstly with some form of hybrid, but potentially also a pure EV version. Spencer Cho, Kia's overseas product marketing boss, confirmed that despite the Stinger's longitudinal engine layout it will be able to share many components with the existing, transverse-engined Optima hybrid and PHEV.
"We can utilise the currently available hybrid and plug-in hybrid technology," he told us, "Stinger will be able to benefit from those technologies."
Cho also confirmed that Kia might develop a pure EV version, with the platform being able to support electric-only drive (and the Stinger's transmission tunnel potentially repurposed to accommodate batteries. "We don't have any EV in the plan yet, but we have the capability to bring EVs in the near future if demand is there," he told us, "based on market reception we will decide… the global EV market is still small, but it is getting bigger and bigger due to CAFE rules in the US and tougher European emissions standards."
At the other end of the range there's also the intriguing prospect that we might ultimately see a more powerful or more focussed version of the V6-powered GT, with Biermann – the former head of BMW's M-Division – having previously spoken of his desire to make a genuine M3 rival while the GT is closer in spirit to a BMW 440i.
Source:: Autocar