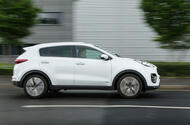 The ever-popular Kia Sportage has now joined our long-term fleet, we put the mid-spec 2.0 CRDi KX-3 manual to the test
It's always good to have a Kia on our long-term test fleet. Especially a Sportage, the mid-sized soft-roader now so popular with British buyers that it accounts for a quarter of all Kias sold in the UK.
The company updated its best-selling model in February and demand has swollen so much that you now can't own one unless you're prepared to join a 16-week waiting list.
Why is it so important to run a Sportage? Because this best-looking model …read more
Source:: Autocar