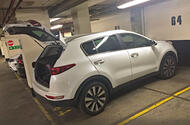 What the Kia Sportage lacks in heritage, it more than makes it up with its practical design
Our Kia Sportage has a limited heritage, but that hardly matters when a car is as well designed as this.
Traditionally, I like cars with heritage. It's on my record: nearly every one of the cars I've driven in umpteen years of punting Autocar longtermers around has had it in spades.
But my new Kia Sportage — which has been busily gathering miles at a rate of about 800 a week in the month and a bit since it arrived — doesn't have much …read more
Source:: Autocar