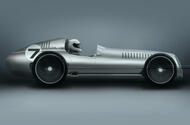 Bradford-based specialist says hybrid-powered special should be launched by 2016
British coachbuilder Kahn is aiming for track day customers with its new Speed 7, a vision of a classic-themed two-seater built with traditional aluminium bodywork.
The Bradford-based styling specialist has pitched for other British companies to join the project – and the company's boss, Afzal Kahn, says he hopes to make it as a hybrid with a price of around £70,000. So far, the firm has released two teaser illustrations showing the car's side profile and its two-seat layout.
"Speed 7 is something that I've had in my head for a couple of …read more
Source:: Autocar