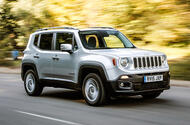 323,361 Jeep Renegade and Cherokee models are to be recalled, including a number of UK cars, for faulty wiring and software
Jeep Cherokee and Renegade models built between 2012 and 2014 are being recalled, after Fiat Chrysler Automobiles found a fault with the cars' electrics.
FCA will recall the Renegade and Cherokee due to a faulty wiring harness and software, which could cause the car to stall. An FCA spokesman cited "an insufficient crimp in a wire harness" as the culprit.
The manufacturer has issued the recall as a precautionary measure, and claims that it is unaware of …read more
Source:: Autocar