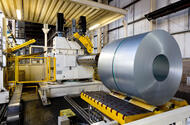 Toyota, Nissan, Honda, Suzuki, Ford, Mazda, Subaru and Mitsubishi are among Kobe's customers
Kobe Steel, one of Japan's largest steel companies with customers across the global automotive industry, has admitted to using improper data on some components used in various sectors.
Kobe released a further statement detailing which components were affected by what it calls «improper conduct» – in this second round of affected product announcements, Kobe listed steel powder, steel wire and other steel products as having improper inspection data. The Japanese materials giant says it «deeply apologizes again for the enormous amount of trouble it is causing to customers, suppliers, shareholders and many others.»
During the first round of announcements, the company admitted 40,900 tonnes of aluminium and copper parts are affected, with flat rolled aluminium, cases and forgings making up the majority of the affected. A relatively small tonnage of copper strips and tubes are also implicated.
The affected products were shipped from Kobe between 1 September 2016 and 31 August 2017. Toyota, Nissan, Honda, Suzuki, Ford, Mazda, Subaru and Mitsubishi are among Kobe's customers. Suzuki has since clarified that none of its cars use the affected materials.
As Kobe has customers across the global automotive industry, there are now concerns about the implication of the improperly submitted data of the parts. Reuters reports that Kobe's automotive customers are themselves investigating.
Kobe is launching an internal investigation and will release a statement on any wider implications at a later date.
Honda has released the following statement: «Having investigated our products based on Kobe Steel's announcement, we confirmed that an aluminium produced in that specific period was used in doors and bonnet of our automobile products. Our products will only use aluminium that passes the internal inspection. We will continue to investigate for further detail and will correspond in order to secure our customers' safety and security.»
Toyota has responded to Kobe's admission: «Our priority in everything we do is the safety of our customers and we are rapidly working to identify if any of our vehicle models may potentially be affected, and via which components. At the same time, we are considering what measures need to be put in place going forward to address this matter. Toyota has long requested its suppliers to be thorough in matters related to compliance. We recognise that this breach of compliance principles on the part of a supplier is a grave issue."
Nissan said: "We have confirmed that aluminum from Kobe Steel is used in the hoods and doors of some of our vehicles. As hoods are related to pedestrian safety, we are working to quickly assess any potential impact on vehicle functionality."
A statement from Suzuki reads: "Suzuki can confirm that none of its automobiles use the affected aluminium and copper products supplied by Kobe Steel, Ltd. Our internal investigation found that they are used for some of our motorcycle products of which the details are still under investigation. Suzuki puts very high priority on the safety of our customers and will continue a full investigation on product quality and take any necessary measures"
A Subaru spokesman said: "Subaru Corporation confirmed that it has been using Kobe Steel's aluminum parts in question in its cars and aircraft. Subaru is working rapidly to identify which parts, vehicle models, and planes are subject to the matter. We are investigating if there are safety risks on the affected products, with utmost priority on the safety of our customers."
Mitsubishi's head office responded with the following statement: «MMC confirmed that MMC had manufactured cars using some components made by Kobe Steel, including one with this issue. MMC is checking whether such components still be used in our current products or not. MMC is investigating internally on the vehicles that are impacted and the safety of our vehicles."
Ford said: «One vehicle in our global lineup – Ford Mondeo in China – has an aluminum hood from Kobe Steel. However, Kobe Steel has not yet confirmed whether this part is affected by their aluminum and copper issue. Even if it is, this is not a safety issue as hoods are not structural elements in vehicles.»
Autocar is awaiting response from the remaining Kobe automotive customers in the UK.
Read more:
Mitsubishi fuel economy practices under scrutiny again
Volkswagen engineer sentenced to prison for Dieselgate involvement
Greed, lies and deception – the VW Dieselgate scandal laid bare
Source:: Autocar