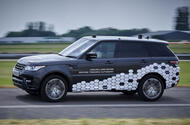 Range Rover Sport is Level 4 autonomy capable, meaning it can drive itself but must have a human behind the wheel
Jaguar Land Rover is demonstrating for the first time its portfolio of urban self-driving technologies in a Range Rover Sport, at the Horiba test centre in Nuneaton today.
Technology from Ford and Tata Motors will also be on display ahead of trials later this year on public roads in Coventry and Milton Keynes.
The Range Rover Sport is equipped with self-driving technology up to 'Level 4′, which means capable of driving itself, but still with a human supervisor at the wheel.
JLR's premium SUV is said to be capable of negotiating roundabouts and junctions, while also responding to traffic lights as it motors around a simulated urban road network.
The ultimate in self-driving is Level 5, in which the vehicle can drive itself, for example to a remote parking location and back to pick-up passengers.
JLR has already demonstrated Level 2 and 3 self-driving technology in which a car can make pulling-out manoeuvres on the motorway.
Queen's speech: Government establishes autonomous and electric vehicle bill
Other autonomous and connected car vehicle technology to be seen in operation at Horiba are Emergency Vehicle Warning (EVW), Intersection Collision Warning (ICW) and In-Vehicle Signage (IVS).
Some of these technologies require roadside technology boxes to beam real-time driving information as part of a flow of car-to-car information.
A Midlands Fire Brigade truck has been fitted with the EVW, which can warn a motorist where and from what direction an emergency vehicle is approaching to allow the driver to pull over to ease the fire truck passage through traffic.
Jaguar I-Pace: first drive of electric SUV concept
ICS warns a driver if it is not safe to motor through a junction, due to the high chance a collision will follow.
IVS might be a significant breakthrough if it can replace in-car camera systems to relay road sign info to the driver. Too often cameras get confused by erratic signage, but IVS uses roadside more reliable data transmission to ensure the information is correct.
Behind the project to bring self-driving cars to British roads is UK Autodrive, a public-private consortium, co-ordinated by the Centre for Connected and Autonomous Vehicles and Innovate UK.
Source:: Autocar