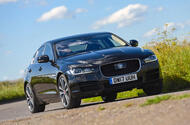 Jaguar's 2.0-litre diesel XE will be one of many cars affected by the taxation change
The additional taxation penalising new diesel cars does nothing to address the issue of lowering pollution or CO2 output, according to Andy Goss
The extra tax on buyers of new diesel cars imposed in the recent Budget is "counter intuitive", according to Jaguar Land Rover sales boss Andy Goss.
From April 1 next year, taxation for any new diesel car will increase by a tax band for the first year, unless a vehicle can meet new real-world testing standards, called RDE Step 2. However these standards are not introduced until 2020, meaning no new diesel model is eligible for this exemption.
The diesel supplement for company cars is also rising from 3% to 4%.
Goss said: "We were surprised by the Budget. What is the rationale? It's difficult to fathom what led to that [decision]."
He continued: "If it had been a question of getting older diesel cars off the road, that would have been understandable. But to go for new diesels in the way they have, is a real surprise."
He also warned on the effect it would have on CO2 emissions. "It's not good. CO2 will go the other way", he cautioned, outlining that CO2 emissions will rise as people are pushed towards buying petrol cars which, on average, have higher CO2 emissions.
Goss' comments echo that of the UK's Society of Motor Manufacturers and Traders boss Mike Hawes. In reaction to the Budget last month, Hawes said: "This budget will also do nothing to remove the oldest, most polluting vehicles from our roads in the coming years."
The SMMT has also raised concerns about rising CO2 emissions, which will make it increasingly difficult for the UK to meet strict emissions targets.
Read more
Opinion: Why the new diesel tax rules are a farce
Opinion: Singling out diesel is a facile solution to a complex problem
Source:: Autocar