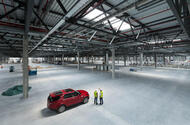 Cutting-edge Slovakia plant will now handle all Discovery production, taking over from Solihull; factory will be subject to investment ahead of model introductions next year
Jaguar Land Rover has announced an overhaul of its UK manufacturing operations, including preparations for a new family of models, and the moving of Discovery production to JLR's new facility in Nitra, Slovakia.
A JLR announcement detailed a refit taking place at the Halewood production facility ahead of the next Range Rover Evoque's launch – meaning the entry-level Range Rover will remain in Halewood for production. As well as this, "a significant investment and technology upgrade" in Solihull prepares the plant for other upcoming Land Rover models, namely the next Range Rover and Range Rover Sport built on an all-new architecture.
It's likely that the Jaguar J-Pace, the Discovery's sister car, will be built in Solihull, alongside the new family of electrified and electric Jaguar Land Rover cars coming next year, including the relaunched XJ and Road Rover EVs. A company spokesman said that the refit would free up extra capacity from the Solihull factory. The Road Rover is expected before the start of the next decade, as Land Rover celebrates its 70th anniversary next year, whilw the Jaguar J-Pace is expected in 2021.
No expansion in the factory's overall area is planned, but JLR claims the planned boost in capacity helps to futureproof the facility.
The opening of the Nitra plant was originally intended to take pressure off JLR's UK factories, since the Solihull plant currently handles all Discovery production. Instead, Nitra will now produce all Discovery models in the latest shake-up.
JRL released a statement about the move, saying: "The decision to move the Land Rover Discovery to Slovakia and the potential losses of some agency-employed staff in the UK is a tough one but forms part of our long-term manufacturing strategy as we transform our business globally."
In April, JLR laid off 1000 of its 40,000-strong UK workforce following a 21% downturn in UK demand, a 12% decrease in European demand in the first three months of the year, and a 20.9% decrease until the end of May.
Around 46,000 Discoverys are made annually in Solihull, with 80% of these heading for foreign markets. The move to Slovakia for Discovery production takes effect at the start of 2019. The Discovery makes up around 10% of Land Rover's total sales.
Read more:
2017 Land Rover Discovery to be built at new Slovakian plant
Driving the Land Rover Discovery to JLR's new Slovakian plant
Source:: Autocar