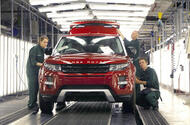 JLR production has taken a hit due to the shrinking UK new car market
Slump in sales of diesel cars in the UK has led to the company trimming workforce at Solihull plant
Jaguar Land Rover (JLR) will not renew the contracts of around 1000 agency workers at its Solihull plant due to industry challenges caused by falling diesel car sales.
The company said in a statement that "continuing headwinds" have forced it to make «adjustments to production schedules and the number of agency staff".
It continued: "We are, however, continuing to recruit large numbers of highly skilled engineers, graduates and apprentices, because we are over-proportionally investing in new products and technologies.
"We also remain committed to our UK plants, in which we have invested more than £4 billion since 2010 to futureproof manufacturing technologies to deliver new models."
JLR, Britain's biggest car manufacturer, employs 40,000 people in the UK, of whom a quarter work at Solihull.
Although JLR has refrained from confirming the number of affected staff members, Autocar understands that 1000 contracts will not be renewed at Solihull and around 350 workers at the Castle Bromwich plant will be relocated to Solihull.
This change is happening because output at Castle Bromwich, which builds Jaguar models, has fallen as demand for new cars has fallen.
Longstanding effects of the ongoing diesel emissions scandal, which include the raising of tax on diesel cars, has driven down demand for diesel cars so that they now represent just 33.5% of the new car market – a 10.5% decrease on last year. Diesel demand fell by 37.2% last month.
Jaguar's XE and XF are understood to have been affected most heavily by this, although almost every model has been impacted because diesels account for around 90% of JLR's sales.
This year has been one of major contrast for JLR. Following on from a record-breaking 2017, in which the company sold 621,109 cars, Jaguar demand is down 26% in the year-to-date and Land Rover – the group's bigger brand – has lost a fifth of demand in the UK.
JLR said in January that it would cut production numbers at its Halewood plant due to slowing new car sales, which a company spokesman linked to «concern around the future of petrol and diesel engines» and «general global economic and political uncertainty".
JLR's response to changing market demand is already underway, with its first purpose-built electric vehicle, the Jaguar I-Pace, due on roads this summer. The firm has pledged to produce an electrified variant of every model in its range by 2020 as it «works towards a cleaner future".
More content:
Volvo to focus on electrifying current range before launching next new car
Mercedes-AMG could launch Cayman rival as next bespoke model
Source:: Autocar