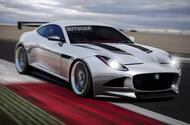 Jaguar's racing F-Type, as imagined by Autocar
Reports suggest British brand will create its first GT competition model for more than half a century
A Jaguar F-Type Coupé GT4 racing model is being developed by the brand's Special Vehicle Operations division for competition use, Autosport has claimed.
According to reports on the racing site, the model will be the first GT competition car to be created at the Browns Lane plant in Coventry since the Le Mans winning C-type and D-type models of the 1950s.
Autosport adds that the Jaguar GT4 team is being headed up by Graham Humphrys, who designed the Le Mans-winning BMW V12 LMR from 1999. He recently worked on the Aston Martin Valkyrie with Adrian Newey and has GT3 experience with Bentley.
Autocar contacted Jaguar for an official response to the news. It neither denied nor confirmed the claims, and instead stressed that focus was on its electric racing team.
"Jaguar returned to international motorsport last year in the FIA Formula E Championship – this is where we are focusing our motorsport activities with our Panasonic Jaguar Racing team," said a spokesman.
Nevertheless, Autosport's source claims the SVO project is being funded by co-founder of the Superdry clothing brand James Holder. It said he has commissioned three cars to use in the GT4 European Series.
This isn't the first time the F-Type has been considered for racing. Jaguar considered building a GT3 racing version of the car in 2014.
Jaguar's only current official racing outfit was introduced to Formula E this season. It has had a slow start to its maiden championship with a best finish of twelfth.
Source:: Autocar