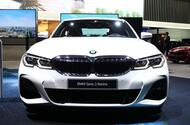 The all-new BMW 3 Series
Opinion: new 3 Series shows that driver engagement still needs to be a top priority for car makers
Often, when people discover I like cars, the responses follow a similar theme: "That's nice – but what a shame you can't enjoy driving anywhere these days because of all the traffic/speed cameras/idiots on the road."
Sometimes, if the respondent is especially keen to wind me up, or a particularly avid Guardian reader, they'll add a snide remark about how much they are looking forward to autonomous cars arriving to take all the stress out things, too.
Perhaps, as you're reading Autocar, you probably get the same? And, perhaps, you too think it's a load of nonsense – not just for sports car lovers, but for everyday motorists as well.
New BMW 3 Series launched with renewed driver focus
That much was made most emphatically today at the Paris motor show, when the new BMW 3 Series was unveiled with the statement that it will, even in entry-level form, be the best car in its class to drive.
Now, what 'best' means is open to interpretation. Certainly, BMW isn't looking to emulate the on-the-edge grin-and-hang-on thrills of an Alfa Romeo Giulia, and there's a suspicion that they believe the Jaguar XE has sacrificed a little too much elsewhere in order to be so dynamically entertaining.
But, nevertheless, the clear indication is that BMW has spent hundreds of millions of its development budget in order to work on a new suspension system with the sole goal of delivering the best everyday driving experience, probably best summed up as one that can entertain you without exhausting you.
Why would it do that if it thought that the bulk of everyday motorists – the very buyers of the 3 Series, and more so since the residual value advantage enjoyed by the premium sector made them such compelling PCP purchases – didn't notice or enjoy the benefits of a dynamically honed car?
I dare say that even the naysayers, who may not realise the effort that has gone into such developments, would soon realise if those same efforts hadn't been made. A dynamically poor car can irritate at every juncture of everyday driving just as quickly as a dynamically excellent one can make you feel better about life – the issue being that the former you never get used to and the latter you often take for granted.
Believe me, the outgoing 3 Series had shortcomings against its competitor set that stood out more than its dynamic shortfall (interior ambience springs immediately to mind, and is now addressed too), but from the talk among executives in Paris, it feels certain that one thing matters more than any other to BMW: that its car is once again hailed as the ultimate driving machine.
For that, I think that not just every car enthusiast but every car buyer should be celebrating.
Read more
New Kia e-Niro launches with 301 miles of electric range
New BMW 3 Series launched with renewed driver focus
Old vs new BMW 3 Series: compare the styling changes
Source:: Autocar