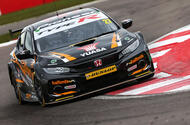 Honda has an all-new car for the 2018 racing season
Honda has a new car for the 2018 British Touring Car Championship; we lift the lid on its engineering secrets
Fun fact: remember the British Touring Car Championship (BTCC) Honda Civics you were watching last year? They were built in 2012.
Okay, maybe it's not that much fun, but it's definitely a fact. Seriously, the five cars driven by Matt Neal and 'Flash' Gordon Shedden, plus three other Honda-supported cars, were all in their sixth season of racing.
2018 BTCC preview: 8 things to watch for this season
Some smart alec is going to tell me I'm wrong. The Civics used in the BTCC were hatchbacks from 2012, but estates in 2014 and Type Rs from 2015, they'll say, head in notebook. And they'd be right.
But here comes James Rodgers, team manager at Honda Yuasa Racing, which is run by the Neal family's Team Dynamics outfit, Honda's supported race team. "We made seven shells in 2012," he says. "In 2014, the intrinsic shells were cut-and-shut to put the Tourer back end on them, and then 'un-cut-and-shut' afterwards. But from the B-pillar forwards they were the same, and the roll-cage remained the same. They're massively strong cars – I think we lost one shell in five years. We're not in a day and age where we can build new shells every year."
This year, though, they can, and this is how they do it.
The 2018 BTCC gets under way at Brands Hatch on Saturday and on the grid will be all-new Honda Civics – faster than last year's car, they're confident – based on the latest-generation (FK8) road car.
Five champions, 17 race winners on the 2018 BTCC grid
It'll be faster because the new road car is faster, although I'll come to why in a moment. Because, first, it's worth bearing in mind that the BTCC's rule-makers will try to limit whatever advantage a new car brings.
The BTCC runs to what they call New Generation Touring Car (NGTC) rules, aimed at equalising the field as much as possible. The rules state that you have to use a common front subframe, a common rear subframe and an FIA-approved roll-cage to a common design, although you can modify it to fit. There are other common parts, too, such as the brakes, transmission, turbo and intercooler, while even parts that are more open to interpretation are still very tightly controlled.
Some parts, after homologation by the regulators, are available for any of your rivals to see. And if it looks like you've gained a notable advantage then, well, there are technical committees and engine committees who might limit your turbocharger's boost. And if you're still winning after all of that, then there's success ballast – applied and removed on a race-to-race basis – to slow you back down again. The only time you'll actually see the latent, honest pace of a top BTCC car in a season is probably in the build-up to the first race.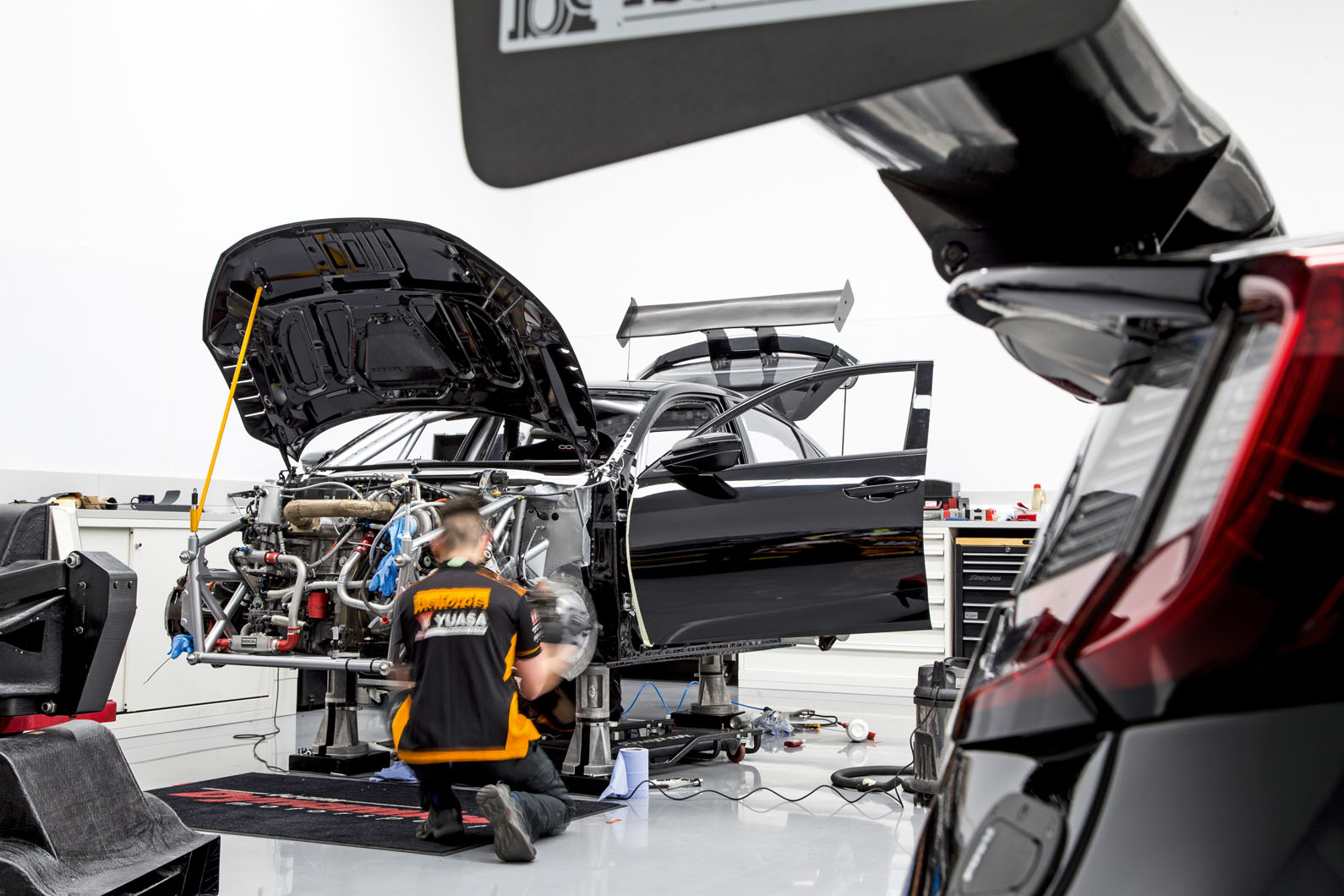 Sounds harsh, doesn't it? But this stuff works. The BTCC has run itself so successfully – and it's mostly representatives from the teams who make the decisions – that it's the most-watched British motorsport series going. Crowds average 40,000 and there's live TV, the entry list is maxed out at 32 cars and sometimes qualifying grids are separated by less than a second from front to back.
And crucial, says Rodgers, is that "they look like road cars. As you know, they're actually very far detached, but on the circuit they look [similar]."
They even start off as road cars. A new bodyshell rocks up at Team Dynamics HQ – an immaculate building in Droitwich – from where it's sent off to be dipped. It's not acid dipping like the old mega-money Super Touring days of the 1990s, where the car comes back so thin you could scrunch it up like a fuel receipt, but it gets rid of the galvanic coating. Then fabrication work on the cage begins. It has already been designed in-house because Team Dynamics gets CAD body data from Honda, and it has been FEA (finite element analysis) tested and approved by boffins at Autocar's old friends' place, MIRA proving ground.
If you've got some machines and you've got proficient welders – and, boy, does Team Dynamics have proficient welders – you can make anything. Even an estate from a hatchback and back again.
Suppliers help the situation, too. Team Dynamics is a technical partner with a lot of component makers, so that's why it doesn't pay for spark plugs that would cost £1800 a set otherwise, why its own damper and spring experts can advise Bilstein and Eibach precisely what they'd like to run and why this tech will one day make it into road cars. But this BTCC Civic is, they reckon, going to be so fast, because the Civic road car was born with a Type R model in mind in the first place.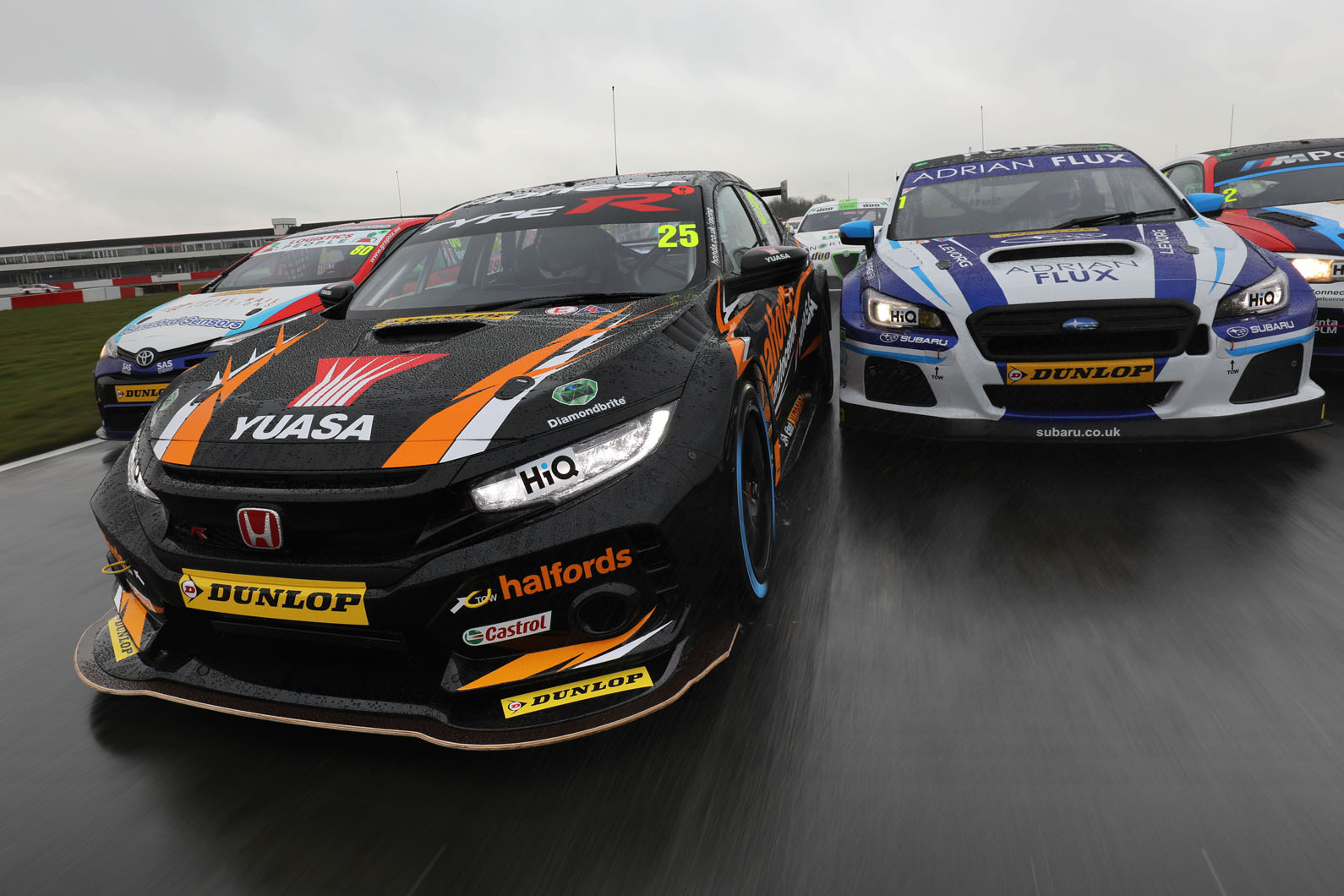 Why BTCC's racing is so exciting
This isn't PR puff. The latest-generation Civic has its fuel tank in a sensible place – by the rear seats – whereas the previous car had it underneath the front seats. For the race car, it was redeployed somewhere that would be safer in a crash anyway, but what it also meant was that the car's floor wasn't completely flat.
Today, it is flatter for longer, nothing protrudes beneath it, not even the race car's exhaust – this gives aerodynamic advantages. And do you remember us reporting, at the Type R's launch, that Honda's engineers said that all of the scoops and skirts and addenda were there for an aerodynamic reason? And thinking that you'd hope so too, because if they were there for aesthetics, somebody got it badly wrong? Well, that transfers to the racing car. Granted, the wings are extended to fit the race car's wider tracks, but the bonnet scoop increases plenum pressure, the fins on the rear spoiler smooth the airflow …read more
Source:: Autocar