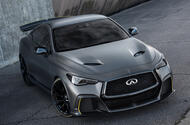 Prototype of new high-performance coupé uses an F1-style KERS system to boost power to 563bhp
Infiniti will showcase a prototype version of its Q60 Black S performance hybrid at the Paris motor show next week. It's powered by a combination of a 400bhp 3.0-litre V6 and a Formula 1-style KERS energy recovery system for a total output of 563bhp.
The prototype is claimed to duck below four seconds for the 0-62mph sprint, although an exact figure is yet to be released. The car's power-to-weight ratio is pegged at 315bhp per tonne.
The car uses a dual-hybrid powertrain, with a regenerative braking system providing one half of the system's componentry, and electric turbochargers and two heat energy collection units recovering heat from the car's exhaust gases making up the other half. The petrol V6 is the same unit found in the road-going Q60 and powers the standard car to 62mph in 5.0sec.
Like the concept revealed at the Geneva motor show last year, the Black S is based on the Q60 coupé, although aggressive styling marks it out from the regular car. The concept had large twin central exhausts, working bonnet vents and a sporting bodykit.
Infiniti teamed up with Renault's Formula 1 team to implement the technology on the Black S, with enhanced aerodynamics making it slipperier and producing more downforce than the regular car. The carbonfibre rear wing, for example, is similar in profile to the one the F1 team fits to its cars for the Italian Grand Prix at Monza and will provide the Black S with stability on high-speed straights and vital downforce when cornering.
Exclusive 21in wheels, differing in design from those of the concept, are also fitted.
The Black S hasn't yet been confirmed for production, but the car's transition from concept to prototype suggests that it's edging closer to that point, small potential UK sales volumes notwithstanding. Infiniti sold 623 cars in the UK between the start of this year and the end of August.
Infiniti's global boss, Roland Krueger, said: "Project Black S utilises high power and smart energy management from advanced powertrains, a thrilling dynamic capability on road and track, and a performance-oriented aesthetic. A collaborative venture between Infiniti and the Renault Sport Formula 1 Team, the Project Black S prototype is a test bed for new ideas and technologies, demonstrating how our Alliance partnerships could make our ambitious visions a reality."
Read more:
Source:: Autocar