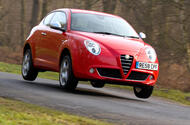 ALFA ROMEO MITO – LAUNCHED 2008: It still looks good but it has been a dynamically troubled premium supermini from day one, owing to its heavy reliance on hardware from the budget Fiat Punto. Doubtless, it has hung on partly because of those looks, but also because Alfa Romeo dealers had little else to sell before the launch of the Giulia. Alfa has no plans to replace it so it could still linger.
Most models are replaced regularly to sate the appetites of motorists brought up to desire the Next New Thing. But some cars dodge the bullet for years
Car firms are increasingly clinical about replacing aging models, releasing their successors every four to seven years regardless of today's proliferation of models and niches.
But some cars manage to dodge these rigid product plans – and the guillotine. Sometimes this is because their maker doesn't have the budget to launch new models, or because they have little else in their product range to offer, or because there's no replacement planned but still some profit in continuing with production.
Flick through our gallery for 12 survivors worth looking at – and you might be surprised by which ones are still hanging on in there.
Source:: Autocar