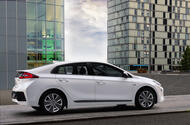 Hyundai is looking into incentives in an effort to rival Toyota's monopoly on Uber drivers
Toyota's current dominance among Uber drivers has caught the attention of Hyundai, which is researching incentives to entice private hire drivers into the Ioniq.
Toyota and Uber have already looked into deals to encourage drivers' use of the Prius, which has already had huge success among Uber drivers. Toyota made a 'strategic investment' in Uber and offers a lease deal on its cars.
Hyundai's Ioniq hybrid has garnered its fair share of comparisons to the Prius since its reveal, mostly for its role within …read more
Source:: Autocar