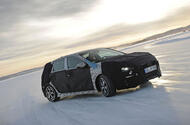 First N-badged Hyundai performance model will be based on the new i30 and will cost less than £30,000
The Hyundai i30N has entered its final stages of testing in the Arctic Circle, before the upcoming Volkswagen Golf GTI and Ford Focus ST rival goes on sale later this year.
The first road car manufactured by the Korean firm's performance sub-division, N, has had development input from Hyundai World Rally Championship (WRC) driver Thierry Neuville, who has been driving the car in Sweden – see video below.
In the released footage, the i30N's gruff exhaust note can be heard and Neuville demonstrates the capability of the front-wheel-drive car's electronic limited-slip differential.
The i30N has a 2.0-litre turbocharged engine that is expected to produce in the region of 260bhp. Initially, the i30N will come with a manual gearbox, with an automatic transmission likely arriving in 2018.
Hyundai boss Albert Biermann has hinted that the i30N could have a top speed of around 155mph. He also said a four-wheel-drive version could follow later on, suggesting a rival to the Ford Focus RS is being considered. This was backed up by the unveiling of the 375bhp RN30 concept.
Autocar has driven the 2017 Hyundai i30. Click here to read the review.
The i30N will also be available with a track-focused performance package, which will further boost engine performance.
"Our car will be affordable," said Biermann, who in 2014 left his job as vice president of engineering at BMW's M performance car division to oversee Hyundai's new N division. The car is expected to be priced at less than £30,000, with Hyundai stressing N division's focus will be on «affordable performance«.
Biermann also confirmed that Genesis, Hyundai's luxury standalone sister brand, will get high-performance variants of its models, and suggested it would be available in the UK.
«We will go into different markets and regions with N,» Biermann said. «We will also develop high-performance cars for the Genesis brand but they won't have the N badge. N is just the sub-label for Hyundai cars.»
Hyundai has recently launched its third and final version of the Ioniq, which is available as a hybrid, plug-in hybrid or fully electric car, and Biermann hinted that hybrid powertrains would play a part in N's future.
«We have everything available,» he said. «It's too early now [for hybrid powertrains in N cars], but the time will come soon, definitely.»
A development version of the i30N raced in the 2016 Nürburgring 24 Hours endurance race to test components that will eventually make it onto the production car. That car was badged as a Hyundai i30 2.0T, and built for Hyundai by the motorsport department of German-based Hyundai dealership Schumann. It's pictured below.
Compared with a standard i30, around 40% of this i30 Turbo model was new. The engine was newly developed and the car used enhanced suspension, dampers, in addition to upgrades such as different wheels, tweaked steering, wider bumpers and mandatory motorsport safety features.
The car's engine produced 259bhp and 227lb ft at 6000rpm, suggesting the final road car could offer similar performance.
Hyundai has been working on the development of performance models since 2013, when it first launched the 'N' brand as part of its World Rally Championship assault. The company has a 3600m2 test facility at the Nürburgring.
Source:: Autocar