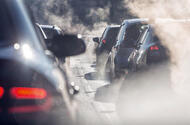 Government's new Road to Zero Strategy aims for at least of half of new vehicle sales to be for ultra-low-emission models
The Government has confirmed that hybrid cars and vans will be excluded from its 2040 ban on petrol and diesel new car sales.
As revealed by Autocar in May, the Government's new Road to Zero Strategy will allow electrified models to be sold, so long as they are classed as ultra-low-emissions vehicles (ULEV).
At present, these are cars that emit on average less than 75g/km of CO2, of which the vast majority are plug-in hybrids capable of electric-only running. The Government intends for at least 50% (it targets 70%) of new car sales to be of ULEVs by 2030.
The 2040 ban was announced last year and came as part of the Government's air quality plan, which aims to reduce emissions produced in several sectors, including private transport. The Road to Zero Strategy supports this and is focused on road transport.
Aside from lowering harmful emissions and improving air quality, the Government predicts that investment into more sustainable car technology will provide the UK with an opportunity to become a global leader of an industry that it predicts in its Industrial Strategy will be worth up to £7.6 trillion per year by 2050.
Analysis: are car makers ready for WLTP?
The Government has been particularly cautious in its ban on pure combustion and petrol vehicle sales by not supporting one low-emission technology over another. It said in a statement: "The Road to Zero Strategy is technology-neutral and does not speculate on which technologies might help to deliver the Government's 2040 mission".
This comes a month after Richard Harrington, under-secretary for business, energy and industrial strategy, stated that it's not possible to predict which technology will be best placed to provide sustainable transport energy in the next couple of decades.
The Government has committed to £1.5 billion worth of investment into ULEVs by 2020, ramping up the rollout of vehicle chargers via its £400 million Charging Infrastructure Investment Fund, as well as creating a £40 million programme to develop and test low-cost wireless and on-street charging technology.
Added to its existing plug-in car grant, which removes up to £4500 from the list price of an electrified vehicle, the Government also provides up to £500 to electric vehicle owners wanting to add a car plug to their homes, via the Electric Vehicle Homecharge Scheme.
Electrified vehicle sales have rocketed in recent months, with more than 150,000 ULEVs on British roads at the last count. However, this still represents just 0.4% of all vehicles.
More content:
Vauxhall Corsa GSi priced from £18,995
Ford Fiesta ST-Line long-term review
Source:: Autocar