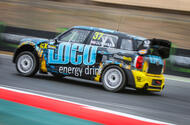 Britain's Guy Wilks talks us through the start procedure of his Mini Countryman RX
Drag racing aside, World Rallycross Championship cars are pretty much the quickest things on four wheels.
Based on humble hatchbacks but extensively reengineered into almost unrecognisable machines, they make use of tremendous traction and heavy boost to launch off the line quicker than even F1 cars.
This start performance is not just staggering, it's also highly important because the races can be as short as four laps long, meaning a fluffed first few hundred metres will pretty much end all hopes of a good result.
Guy Wilks, Britain's sole remaining …read more
Source:: Autocar