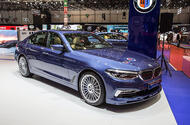 Alpina's hot B5 will be joined by a 400bhp D5 version based on BMW's 550d
The 2017 Alpina B5 has made its world debut at the Geneva motor show with a 600bhp twin-turbo V8.
Both saloon and Touring versions of the hot 5 Series variant will use BMW's 4.4-litre unit, which also outputs 590lb ft of torque.
That performance will rank the new Alpina close to the next M5, which is predicted to produce around 600bhp.
BMW won't be producing an M5 Touring, so the B5 Touring will be the hottest estate on offer in the new BMW 5 Series range, although the model is yet to be revealed. Sightings of a development car offer a glimpse of its look (see gallery).
The new car accelerates from 0-62mph in 3.5sec and tops out at 205mph.
The petrol V8-powered B5 will be joined by a more fuel-efficient diesel-engined equivalent called the D5, which is yet to be shown. This will also be available as a saloon or estate and will most likely have a turbocharged straight-six engine with around 400bhp and close to 600lb ft.
The unit will be a developed version of the six-cylinder powerplant used in the new BMW 5 Series 550d, which produces 395bhp and 560lb ft.
As a result, the Alpina D5 is expected to have a sub-five-second 0-62mph time as well as combined fuel economy of around 50mpg.
Both the B5 and D5 have Alpina's own exterior styling and familiar multi-spoke wheels. Performance-honed suspension and gearbox settings will also give the two hot estates sharper responses than those of BMW's regular estate offerings.
UK pricing is yet to be confirmed, but £60,000 is expected for the D5, while the B5 Touring could be in the region of £100,000.
Geneva motor show news
Source:: Autocar